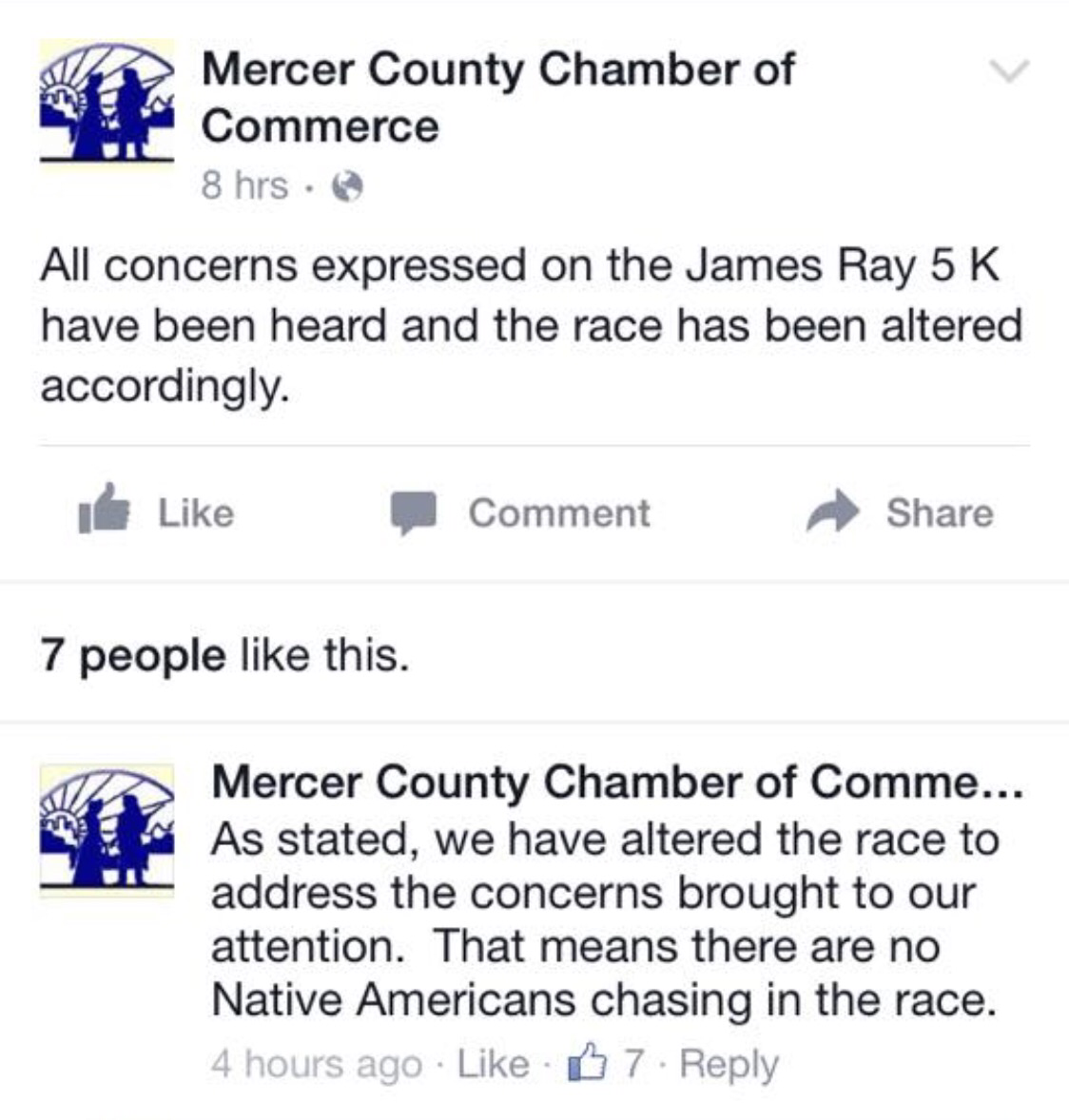 By Guest Contributor Migizi Pensoneau
ICYMI, Harrodsburg, Kentucky decided it would be an awesome idea to host the 2nd Annual James Ray "Indian Attack" 5k. After folks were outraged, they posted the notice above, as well as a longer message on their Facebook page. This is Migizi's response.
To Whom It May Concern (really it concerns all of you),
I'm very happy that the more demeaning aspects of Native American representation were pulled from the 5K. However, I do have a couple of very quick points of contention.
First, in your message via your website, it is mentioned that, "The Mercer Chamber of Commerce and the Pioneer Days Festival Committee, after being made aware of an inappropriate reference to Native Americans in a story and advertisement published in the Advocate Messenger, has pulled all references to Native Americans in its print and internet media."
Why, exactly, would you do that? I guarantee that Native Americans were a very big part of your demographics during the celebrated and aforementioned time period. It's time to embrace ugly history, America. Harrodsburg and Mercer County could lead the charge! Imagine if, during the Pioneer Days, there weren't just reenactments, but you brought in actual Shawnee, Chickasaw, and Cherokee to talk about their version of history. That's not a revisionist history I'm talking about here, Mercer County. Revisionist is the awful mess of a 5K Run you had going. Through education and discussion, maybe the celebration in Mercer can be one of truth and the re-humanization of the Native Americans of whom you're still obviously terrified.
Read More