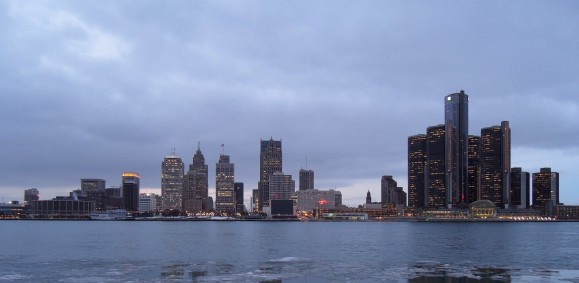 By Dr. Kyle Mays, Guest Contributor 
Scenario: So, I'm sitting with five dear friends in at one of their apartments. Two were women, three were men, all were Black, except for me (I am Black/Saginaw Chippewa). We're eating grilled chicken, mac-n-cheese, a bomb-ass fruit salad, and a salad with Thai-sesame dressing; the food was on point! After finishing our meals, we had some carrot cake with cream cheese frosting (yum!) with coffee⎯medium roast. Luckily we finished our meal and no one suffered the itis.
As is our custom, we began to debate politics, popular culture, and just straight shit talking. Our conversations ranged from whether Beyonce can be a feminist, to how someone could support racist mascots. Then, we started to debate current happenings in the D (Detroit!). The bulk of our discussion was centered on how hipsters⎯white hipsters⎯are moving into Detroit, and setting up businesses downtown. One of my friends called it gentrification, the other homie chimed in and made a distinction between urban renewal, which is what is happening downtown, and gentrification, which is happening all over the city. I was pretty quiet, after all, I'm a historian, what do I know about contemporary politics?
Anyways, one of my friends made an interesting rhetorical choice by calling the white hipsters "contemporary settler colonists," to which my head snapped up. I guess he saw my sudden reaction, and further stated his case that, yeah, white hipsters coming into Detroit were, in fact, settler colonists. My immediate reaction was to think, "Of course they are, we live in a settler colonial society."  But the second thought made me a bit more uneasy. I thought to myself, "wait–you in this room are also settlers; you have a very different historical experience in this country, but make no mistake, your ass is a settler, too." Even writing that makes me uncomfortable! After all, these people in the room are people I love⎯dearly. But what enhanced my discomfort happened about five minutes later, when I brought up an essay written by Detroit radicals James "Jimmy" Boggs and Grace Lee Boggs. The essay is titled, "The City is the Black Man's Land."
In this seminal essay, published in 1970, the Boggs' articulate a compelling argument for why it is imperative for Black folks to take over the politics of cities. Here is a passage from their essay:Read More