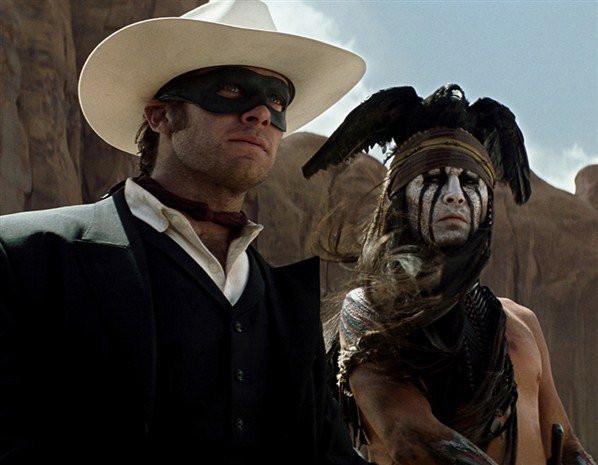 Oh Armie Hammer. The guy who played twins in the Social Network, the guy who's name sounds like baking soda. Now he's playing the Lone Ranger opposite our good friend Johnny Depp as Tonto, and recently he said in an interview about the movie that all the Natives he talked to were SO SUPER STOKED that the film was being made. Guys, that's the movie equivalent of "but I have a black friend!"
Tonto recap, if you haven't been following along. My posts are here: my initial reactions, why you should care about Tonto when there are "bigger issues" out there, tearing apart Depp's reasoning over his costume choices, and finally the controversy I dealt with for writing about Tonto.
So back to Armie. Here's his quote in the LA times, defending the casting of Tonto, saying there were plenty Natives he talked to who loved it, and only white people were upset:
"They were nothing but excited about it. They loved it — they're thrilled. It's so funny, because every Native American we talked to was like, 'This is awesome! I'm so excited.' And every white person we talked to was like, 'How dare you cast a non-Native American?' It's like, the white people are the one who have the problem, but the Indians — the Native Americans — are like, 'This is great. We love it.'"
A few things.
So. The casting of a non-Native thing has kinda gone by the wayside for me. While I was initially super mad that they cast JD and didn't give the role to a Native person (blah blah Johnny has Indian heritage blah blah he was adopted by the Comanche Naiton–Not the point right now. That doesn't excuse anything.), the more that has come out about the film, the more I'm glad that a Native actor isn't embroiled in this mess. So Armie, the casting is only part of the issue. The bigger issue is the mountain of stereotypes Depp's portrayal of Tonto represents–from his hot mess of a costume with a freaking dead crow on his head, to the horrible stereotypical mystical warrior BS that we can see in the trailers, to the ridiculous and demeaning use of Tonto-speak broken English that has haunted Native communities since the first spaghetti westerns.