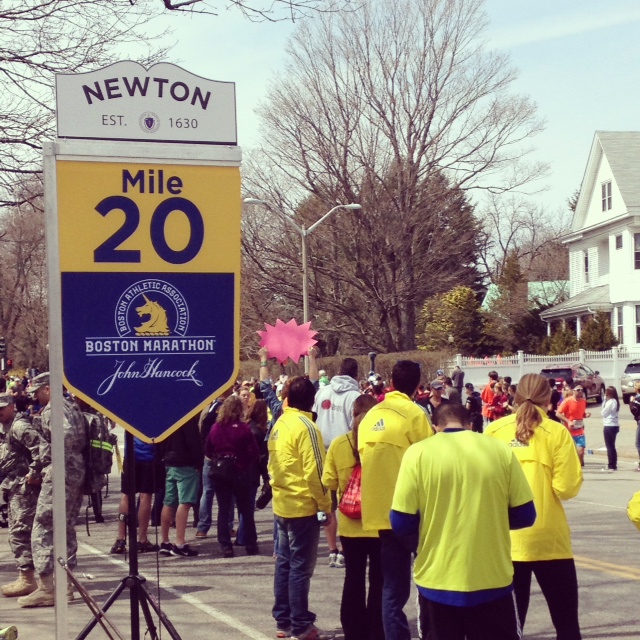 AK note: I know I've been away for a long time. I have lots and lots of exciting things to share with you, and I have many updates as to where I've been and where we're going. I promise we'll get there. Today, I need to write about Boston. This post has nothing to do with Native communities, other than the fact that I happen to be a Native person navigating this. So bear with me–I need to process, and the way I process is through writing. I wanted to come back with a happy, excited update post, but all in due time. 
Yesterday, I woke up in my apartment in Watertown, a town on the border of Cambridge, across the river from the city of Boston.  I was excited, and a little nervous, to head out and watch one of my best friends from college run his first Boston marathon. I had volunteered to deliver pedialyte at mile 20–and was worried that I would fail in my job. How would I find him in the crowds of runners? What if he missed me? Would I mess up his whole race? He needs his electrolytes! I even rented a car to make sure I would get there on time.
I drove out to the affluent suburb of Newton and set up shop right under the mile 20 marker, on the right side of the road, exactly where I told him I'd be. I was constantly refreshing my phone to track his progress–10k, 20k, 25k–amazed as he flew through the course, averaging 6:40 miles. The hand-off went smoothly, I should have known that his 6'5″ frame and enormous grin would be easy to spot. He waved hello as he approached, grabbed the water bottle, shouted, "Thank you! You're the best!" and was gone. I let out a sigh of relief, laughing with fellow race-watchers about my earlier anxiety. Since my duty was done, I settled in to cheer on the runners.
My friend J met up with me, and we proceeded to cheer and clap as the brightly colored runners surged by. Everyone was excited, there was almost a festival atmosphere–horns, cowbells, balloons, kids selling $7 hotdogs (like I said, affluent area), and it was just fun. We took to yelling for the runners by name, as many of the runners wear their names taped to their chest or written on their arms in sweat-smeared sharpie. "Go Dave!" "Go Angie!" "Go Michelle!" We continued to yell until the crowd thinned, and it was only the slower runners carefully plodding along the course. We clapped, cheered, and offered encouragement, with our name-dropping eliciting smiles and tired thumbs ups. I talked to my superstar runner friend on the phone. He had finished in 3 hours, was happy with his performance, and said he was headed back to a friend's apartment to take a shower. We made plans to eat an early dinner in Back Bay.
The original plan was for me to wander down to the finish line and watch the end of the race, but J and I stayed to wait for his friend's dad to pass the mile marker, knowing he would be one of the last runners. We waited, gave him and his support crew a triumphant cheer, with J even jogging backwards in front of them for several yards to snap some pictures–a fairly entertaining sight.
Afterward, we parted ways, heading back to our cars, agreeing that it was a fun and inspirational afternoon. "I want to start running again!" I exclaimed as we were leaving, "maybe a marathon is in my future!" The community at the race and the community of runners had made be long to part of something like it.
Then I got a phone call from my sister, and I could hear fear in her voice from the moment I answered. "Hey sees, are you ok? You're not at the finish line, are you?" and then I heard. I heard about the two explosions at the finish line, the reports of mass casualties, the chaos and confusion. "Just get home safe," she told me. My hands were shaking as I started the car, and my phone began ringing and buzzing off the hook as floods of concerned friends and family called to check in. My head was cloudy as I drove toward home, and in a panic, I ended up taking a wrong turn and was suddenly on the Mass Pike–headed towards the chaos, rather than away from it. My phone was dying, I didn't know where I was going, and I was scared. Helicopters roared overhead, emergency vehicles flew past, lights flashing and sirens blaring. I ended up right where I didn't want to be, and each wrong turn seemed to bring me closer to the exact place I wanted to get away from.
In a moment of clarity, looking at my dying phone, I found a CVS, and pulled into the parking lot. Several more police cars raced by, and cars blared their horns as stressed pedestrians tried to cross the street against the lights. I walked inside, and the contrast was so strange. While the world outside felt chaotic and wild, inside was cool, and eerily calm, with the same awkward muzak playing over the speakers, the same rows of the products found at any CVS in the country. The store brought such strange normalcy, I almost wanted to cry. I wanted to browse the shelves and stay in there until someone told me it was safe to venture back outside. Instead, I bought a car charger for my phone, and asked to use the restroom. After letting me in to the restroom, the pharmacist, a sweet older woman, gave me a hug, and told me to get home safe.
I finally got home, but not without getting turned away by police at multiple junctures. All bridges in and out of the city were blocked, along with most of the race route. I ended up driving all the way back out to Newton and circling back. My route took me across the road where only an hour earlier I had stood with J, cheering on the racers. It now was deserted, with police walking along the street, litter and caution tape fluttering in the wind. There wasn't a civilian in sight.
It wasn't until I got home and turned on the news until the full weight of what had happened hit me. The images were so gruesome, so horrific–I was in total disbelief. My roommate spoke to her friend in Afghanistan, and she said the images looked like those from the war zone she inhabits everyday. I spent the next few hours checking on all my friends, making sure everyone was alright. Miraculously, they all were. Even friends who had been at the finish minutes before the blasts were fine. I processed slowly, seeing the images as if they were from somewhere else, not the joyful place I had been that morning. Then reading the New York Times, a line jumped out at me–"There are reports that additional unexploded devices were found along the route, including in Newton, a suburb 6 miles from the finish." It was then that I began to panic. I felt my heart pound and tears well up in my eyes. The report has since been removed, but in that moment, it all went from something that happened to others, to something that could have happened to me.
I am so lucky, and so grateful. My story isn't one of chaos, smoke, and injury–but one of simple uncertainty and fear. I feel strange even writing about it–It could have been so much worse. My friends are safe, I'm safe–but there are so many who are not.
We hear of bomb blasts everyday in the Middle East. We hear the numbers killed by drone strikes, of IED's killing hundreds of soldiers and civilians. But we've become numb to it. We've forgotten that these bombings are about people, people with families, lives, stories, hopes, and fears. We debate about whether this heinous act is an "act of terrorism" and madly tweet when the president uses the phrase. We've forgotten that terrorism is the use of violence to reach political aims–there is nothing in the definition that includes the word "muslim." I was so saddened by the rush of initial tweets implicating a "Saudi national," or a "dark skinned man with a hooded sweatshirt and a backpack." I was hurt by this quick racism and xenophobia that followed the event–an event that started as a day so full of communal joy. Now communities of color continue to hold their breath, praying those responsible are not one of their own. I am also disappointed in the way this has been covered in the media, a glorification of blood and mutilated bodies, the sharing of images that are not necessary to understand the weight of what happened. We are a nation obsessed with consumption of information in real time, and I, as someone who spends all day online, am a part of that culture. But it feels so hurtful and insensitive when the images are of my own backyard. A double standard, to be sure.
But in reading the accounts of the first responders, the folks tearing down barriers to reach the wounded, the googledoc of thousands of homes being opened to runners and families, I was proud of my city–a city that admittedly I've been harsh on for the last four years, one where I've never completely felt at home.
Earlier in the day, as J and I were getting situated at the race, a big hawk flew overhead, low enough that I could see its markings and the color variations on its feathers. I pointed it out to J, smiling, "It's a good sign. It's protection." I watched it circle over us and the runners for a few minutes, amazed as it lingered. I see hawks often–I'm known for spotting them in the most unexpected and urban of settings–so I wasn't surprised. But by the end of the night, I realized the importance, and was so grateful for the watchful eye of my ancestors. At the time, I had tried to snap a picture, but ended up with one of just the bright blue sky.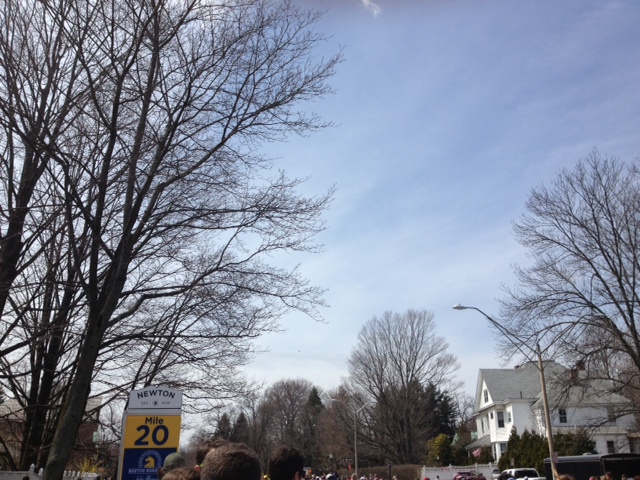 So I'm still processing. I don't know what to think, I don't know how to make sense of the tragedy, I don't know how I feel that I was lucky enough to be 6.2 miles from the explosions. I was so humbled by the hundreds of texts, tweets, calls, facebook posts, and instagram comments from concerned friends I received yesterday, it was amazing to know how many friends, some whom I've never even met in real life, cared about my safety. Today in Boston is eerily normal, at least over here on the other side of the river. I was chided for late assignments for Ed Review, my dissertation proposal is still due in two days, and the sun still shined. But folks are a bit kinder–the harsh Bostonian stare I've come to recognize has been replaced by nods and eye contact, the bus driver this morning told those of us exiting the bus to "have a great day and stay safe." The community has come together. The overwhelming feeling I have today is one of community–and a community trying to make sense of a senseless and horrific act.
My prayers and thoughts are with all of the families who were affected, and I don't know where we'll go from here. It all still feels foreign and strange. But I know the city will bounce back. Boston is made up of tough survivors, and I know we'll get through.