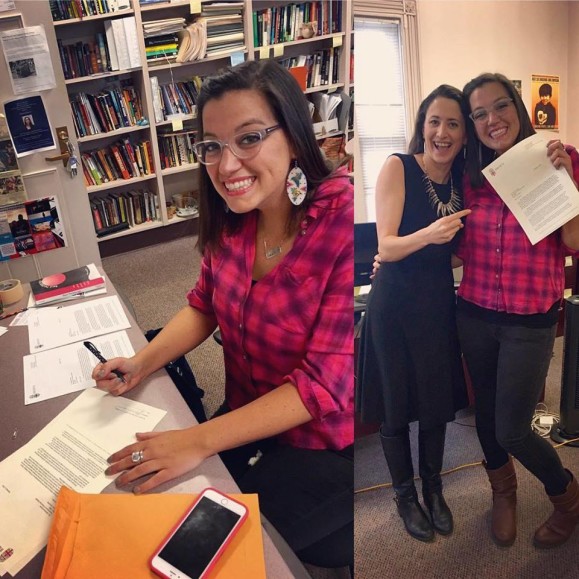 Six years ago when I started Native Appropriations, I was a first year graduate student fed up with feeling invisible and voiceless in my doctoral classroom. Since that time, I've gone from semi-anonymous graduate student "Adrienne K." to scholar-blogger Dr. Adrienne Keene, and in many ways this blog has served as a catalog of that journey. I've watched my own voice and knowledge grow in these online communities, and the conversations around cultural appropriation move from whispers in academic circles to a full blown roar in mainstream media (for better or worse). And through it all, we've built a community, one where we know that representations matter, and are not only worthy of our time and attention, but are tied in with our continued struggles and survival as Indigenous peoples.
Behind the scenes, these last six years have not been easy. I struggled through graduate school, have pushed through my postdoc, and many times felt lonely, insecure, and afraid of the choices that lay ahead. I lived in four states, seven apartments, and moved five times in one calendar year, and haven't felt "settled" (ignore the irony of that word choice) in a very, very long time. This job search has been beyond stressful, and has meant many sleepless nights and a constant state of anxiousness for months on end. But it ends with very good news. 
I'm proud and happy and overwhelmed and every emotion under the sun to announce that I've signed on as a brand new Assistant Professor of American Studies at Brown University. I join a department full of awesome, dynamic, hilarious, kind, intelligent, deep thinking, and deep caring colleagues at the forefront of the field of American Studies, who have supported me so much through my postdoc. Brown has been open for over 250 years, and I'll only be the second Native person to be in a tenure-track position at the university. The other is my incredible colleague Liz Hoover, pictured with me above. That blows my mind. Of course it's not surprising, but at the same time, it is. It sets the stage for the important work the next years will bring.
I enter Brown at a time of change and anticipation, our students have been fighting hard for the university to address issues of diversity through activism and advocacy, and the Native students in particular have fought long and hard to be seen and acknowledged in a community where their numbers are small. But Brown has listened. We have established a Provost's Initiative on Native American and Indigenous Studies, which now has campus space, and a game plan for what the next steps will look like. Last week, after tireless community organizing by the Native Students, the faculty voted to officially acknowledge Indigenous Peoples Day on the school calendar, rather than "Fall Weekend," which replaced Columbus Day a few years back. I know my hiring is also partially in response to the student activism, where the number one demand, over and over, has been for more faculty of color that reflect the diversity of the student body. All of that is to say, the students here are amazing, and I'm so excited to support them and these causes from a more formal space.
I can't even begin to acknowledge and thank all of the people that have supported me to this place, I get choked up thinking of all of the acts of kindness throughout the years that gave me the small boosts of confidence I needed. Whether it was my scholar-idol and later mentor offering to be on my doctoral committee within two minutes of meeting me back in 2010, an invitation to an Indigenous writers retreat in Alaska that truly saved me from leaving graduate school, fellow female Native scholars making time in busy conference schedules to have coffee, colleagues a few years ahead of me in this process texting advice and pulling back the curtain on the rules of the academic game, friends who offered tissues in hotel rooms as I cried at academic conferences, dinners at the homes of colleagues and friends, co-authors creating community, best friends who read whatever you put in front of them and make you pancakes when the feedback is harsh, family who had no idea what I was talking about but still supported me in every way, and most recently a colleague/friend and a department chair who wouldn't give up until my hiring became a reality. There are so many more moments, so many more people, but all of this is to say that it was truly the relationships that sustained me, and will sustain me, through this journey that is far from over.
This new role brings new responsibilities, both in the research/teaching/service realm, but also new responsibilities to my people, and Native people more broadly. I can't help but reflect on the privileges that have brought me, in particular, to this place, the combination of white privilege, schooling privileges, economic privileges that have meant I am the Native voice that is now here. As I say often, the importance of acknowledging your privilege(s) is then working to dismantle them–and that's what I plan to do as I move through yet another ivy-covered institution. I have a lot of work ahead to reach tenure, as well as to continue to advocate for Native peoples and Native presence in the Ivy League more broadly. But I'm excited, and ready. And ready to bring all of you along with me.
What does this mean for the future of the blog? It means something, but I'm not sure what yet. The last few months have been quiet around here, as I nervously worried about every word I put out on the internet, wondering what an academic job committee would think about my slang and memes and buzzfeed videos–but I'm happy to say my new department loves it. Which is all I can hope for. So the writing will come back, and as always, grow and change as my thinking matures and changes. I don't know what it means to now have a semi-permanent institutional affiliation attached to me, but that will be a learning process as well.
For any Native student or student of color out there who is considering a career in academia–you. can. do. it. 10 years ago an offhand comment from a professor and an invitation to apply for the mellon mays fellowship put me on this path, before that the idea of obtaining a doctorate and becoming a professor was never even something that had crossed my mind as a possibility. But it is possible, and it is necessary. I see how the conversations change when there is a Native voice in the room. I see what it means to the Native students to have someone who understands them in front of the classroom. I see what it means to have my research with Native peoples in an academic journal, challenging and unsettling those norms and conventions that weren't meant for us.
Lastly, wado, thank you, to all of you–the readers that make up this community of Native Appropriations. This blog has been my respite, my outlet, and my chance to use my voice when I felt alone and voiceless in grad school. It gave, and continues to give, me confidence, community, and a way to fight while I'm holed up in ivory towers. You've taught me so much, pushed my thinking, helped me formulate thoughts, pointed me toward resources, and in many cases even become irl friends. I sometimes can't believe all of the good this little blog has brought to me.
To the next chapter! I can't wait! #employed #happydance