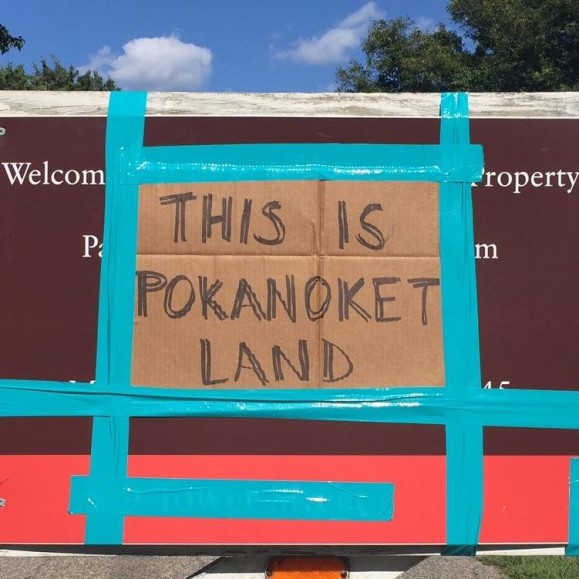 On August 20th, a group of Native people and their supporters started an encampment on land currently owned by Brown University. I've been uncharactaristically quiet on social media about the encampment, but behind the scenes I've been information gathering and trying to terse out what's really going on here. So this post is context and personal thoughts, as well as to share the statement recently put out by the Native American Indigenous Studies Initiative at Brown (of which I am a part).
The land the encampment is on is located in Bristol, RI, about 30 min from Brown University. It houses the Haffenreffer Museum of Anthropology collections, and has a few other structures as well. It is also incredibly important land to Wampanoag peoples, it is the land where King Philip (Metacomet) spent his summers, and the land where he was eventually killed in 1676.
After his death, Metacomet's head was placed on a pike at Ft. Plymouth for over 20 years, his body split in quarters and hung in the trees, and his right hand given to man who killed him as a "reward." On top of that, his wife and child were immediately sold into slavery in Bermuda (early American history was just as awful as the present, friends). I share this horrific story because it is just one of many, and there are innumerable ways that Native peoples were killed, erased, and made invisible in the Northeast throughout our history and into the present (for more info, see "Firsting and Lasting: Writing Indians out of Existence" by Jean O'Brien). I've been on the East Coast for 7 years at this point, and I have learned so much that I never knew about these communities, the brutal encounters with colonization, and the ways these stories have been strategically erased–and I know I've only barely scratched the surface.
All of that is to say this land is important, and these conversations are important.
The Native American and Indigenous Studies Initiative put out this statement on the encampment, which was sent to the Brown University campus community yesterday, and lays out some of the complications at play here. I know it's long, as is this post, but I encourage you to read it in full:
---
From the Steering Committee of the Native American and Indigenous Studies Initiative
August 24, 2017
Dear Brown community friends,
We are writing on behalf of Native American and Indigenous Studies (NAIS) at Brown, an interdisciplinary initiative of faculty and students interested in teaching and research that seeks to learn more about, and increase the understanding of, the cultural traditions and political experiences of Indigenous Peoples (especially in the Western Hemisphere) through historical and contemporary lenses.
We're sure by now many of you have heard that a group of Native people has occupied a portion of Brown's land in Bristol. There have been several news stories, and we know the social media posts have been flowing as well. The University has issued a statement (continually updated).  We respect and appreciate the larger issues of dispossession and tribal sovereignty that are at stake here, and we are committed to continuing to communicate and act in ways that are respectful and meaningful to all parties involved.  This is a much more complicated situation than the articles have let on, and it is clear that most folks sharing them are not aware of the nuance, so we wanted to provide you with a bit more context.
In the state of Massachusetts, there are two federally recognized Wampanoag Nations—The Wampanoag Tribe of Aquinnah and the Mashpee Wampanoag Tribe. Here in Rhode Island, the Narragansett Indian Tribe in South County is the only federally recognized tribe. While there is a long history of erasure and forced assimilation of Native peoples in the Northeast, meaning many tribal communities have been written out of history, the Pokanoket Tribe is not recognized by the federal government or the state, and more importantly is not recognized by the other federally recognized Wampanoag communities.
The Pokanoket are a group that claims descent from the line of King Philip (Metacom) after King Philip's War, and many members of the group may very well have Native ancestry. However, according to historical records used by Mashpee for their language revitalization, the Pokanoket families were taken in by Mashpee after the war, and became a part of their community. There is a delicate yet important technical difference between holding Native ancestry and holding nation status, and that is at the heart of the issue here.
Like all universities in the United States, Brown University is on indigenous land, and part the goal of the NAIS Initiative is to help Brown to productively recognize that relationship and the responsibilities it carries. In the last few decades, Brown has made incremental progress on that front, and is poised to do much more in the coming years with our Native studies initiatives and other work in progress.
Currently, Brown recognizes the cultural significance of the Bristol grounds to Wampanoag peoples and offers access to any local Native person (including the Pokanoket) who wish to use the land for spiritual or community needs. The Pokanoket also work with the adjacent Mt. Hope Farm each summer to run a culturally based summer camp on the land in question, and they additionally host an annual community harvest festival on the land.
Local activist organizations such as the FANG Collective (primarily an anti-fracking group) have jumped into supporting and orchestrating the cause without reaching out to Aquinnah, Mashpee, Assonet, Herring Pond Wampanoag, or Narragansett, which is a problem. Because the Pokanoket are unrecognized, they would not have access to any of the federal or state protections around tribal land holdings, and would not be able to put the land into trust, the cornerstone of tribal sovereignty. Improving cultural stewardship and use of this land needs to involve all of the tribes that have ancestral and spiritual ties to the land.
We have worked for many years to encourage Brown to recognize its relationship and responsibilities to the local Native communities, and those relationships are very important to us as we move forward with our NAIS initiative.  High-level Brown administration members have reached out to and are working with Aquinnah and Mashpee on this issue, and they have also met with the Pokanoket currently on the land. The hope is that they can come to a peaceful conclusion.
We respectfully ask that you don't share out any FANG sponsored petitions, fundraising drives, or materials, and that you ask us any questions you may have before sharing out information. We are happy to provide more resources on any of the topics mentioned briefly in this email, and recognize that the nuances of this may not be completely clear for those outside of Native communities.
More information soon.
---
I'm sure you can understand the tough position I'm in–as Native Approps, staunch supporter of breaking down stereotypes and supporter of Native autonomy and sovereignty, and then also as Dr. Keene, faculty member and default representative of the university. Also, as detailed many, many times through the years, I am someone who deals with identity questions and attacks continually.
So I'm taking off my Dr. Keene-representative-of-Brown hat right now and just want to break down some of the pieces at play here. I want to first add a huge disclaimer that I am not trying to speak for anyone other than myself, and that these opinions have been formulated through discussion with Wampanoag colleagues and other local tribal members from the recognized communities. Aquinnah and Mashpee have not released statements yet, but I will direct folks to them as soon as they do.
So there are two levels that I want to address here: The accusations that Brown won't deal with the Pokanoket simply because they are federally unrecognized, and the personal accusations leveled at my involvement (or lack thereof) in the encampment response.
To the first point, nothing in the statement says the university isn't supporting transfer of control back into Native hands. Quite the contrary. They also aren't "refusing" to work with the Pokanoket–Brown administrators have already met with those at the encampment, and conversations continue. The university officials are committed to continuing the conversations with Pokanoket, but also bringing in the other Native communities with ties to the land, namely Aquinnah and Mashpee.
The line I want to draw attention to is this: "There is a delicate yet important technical difference between holding Native ancestry and holding nation status, and that is at the heart of the issue here."
To make an analogy, this would be if a group of Cherokee descendants calling themselves the "Ani Gituwagi Tribe" (our historic/traditional name for ourselves) camped out at one of our sacred mound sites in North Carolina and wanted the county to give it back, but did so without bringing in the Eastern Band, Cherokee Nation, or United Keetoowah Band. Or if a group of Ute descendants took back Bears Ears without joining with the other tribes who also see the land as sacred.
I have never been a person who relies on Federal Recognition or tribal enrollment as markers of "authenticity." Anyone who follows me on twitter would testify as such. I grew up in California where hundreds of tribes were terminated and purposely erased, and most have not been able to reclaim their nation status. We have challenging and awful issues of disenrollment in some of our communities, where entire families are kicked off tribal rolls, leaving them without any legal recourse to reinstate their status. On the other hand there are also hundreds of "Cherokee" tribes that have state recognition in various states, and they make mockeries of actual Cherokee culture–wearing warbonnets and calling themselves "Running Bear." So the politics of recognition are complicated and not clear by any means.
The Cherokee Nation could kick me out tomorrow, and I would be sitting here as a "real" Native person, albeit one without ties to nationhood. But I can't collect up my similarly dispossessed family members and start our own new nation–even if we have historic and community ties to an existing nation.
There is a larger issue of dispossession and the complications of citizenship here. Many of the Pokanoket have (or may have) Native ancestry. But they are not enrolled in any tribal nation–and that is awful. You can watch the videos of the campers and hear the frustration and pain of not being recognized as Native. I'm not going to try and tell the long history involved here, since these aren't my communities or my history to tell, and I know I don't know all the details. But dispossession doesn't mean that one can form their own nation, and holding Native ancestry does not mean one can claim Native title to land. I am, however, hoping that maybe this situation can be the start of a conversation about citizenship reform for some of our Nations.
Brown as a university has a responsibility to work with the local federally recognized tribal nations to serve their students, to build stronger community ties, and to work toward reconciliation. Over the last several decades individuals on campus and in the Wampanoag and Narragansett communities have worked tirelessly to get Brown to recognize their responsibility to the peoples whose land they are on. We've made definite progress, and as the statement says, are poised to do more. Those relationships are important and need to be preserved. There hasn't been much from Brown since the encampment started because they've been mobilizing and reaching out to all the local tribes–they've actually been incredibly responsive and committed to a lot of listening in the last few days.
So there's a lot more at play than just "they aren't federally recognized." I would like to do another post soon about the legal claims at stake here as well, but need to learn a bit more before I do.
To turn to the personal level, there have been messages online over this issue of me being a "sell out," complicit in the colonial education system, and buying into problematic frameworks of federal recognition because I am not supporting the encampment. Hurtful, to say the least. I want to give a little more context on what it's like to be in my role, and the ways that I struggle everyday to make our university a better place for Native peoples, while still being situated in a settler institution.
There are three Native faculty members at Brown. All women. Before last year, there was one. There are 731 "regular" faculty members at the University (which doesn't include adjunct, visiting, or clinical faculty). That means Native people make up .4% of the overall faculty. Less than half a percent.
On paper, my job as a faculty member is comprised of three areas: Research, Teaching, and Service. Any woman or BIPOC (black, Indigenous, and People of Color) can tell you that this becomes much more complicated if you're not a white male. I have much greater expectations heaped on me simply because I am one of three, and I knew that coming in. I have a lot of privileges as a cis-able-bodied-white-coded Native person, and I try to leverage those privileges in a way that breaks systems of disadvantage.  I loved the concept Dr. Zoe Todd put forward on twitter the other night–that she sees herself as a midwife helping students navigate educational systems:
honestly, my job now, as I see it, is as midwife to help students navigate the bureaucracy+advocate for them so they can soar beyond here.

— DrFishPhilosopher🐟 (@ZoeSTodd) August 24, 2017
I'm a midwife engaged in harm reduction. I'm not going to completely fix a university that has been open for hundreds of years, I'm not going to single handedly tear down a colonial educational system that has helped to destroy our cultures, but I can make it better for the students who are on campus right now, the communities who interact with the university right now, and the students who are still to come. I can also engage in settler harm reduction (See Tuck and Yang), the process of conscientization settlers need to undertake to understand their role and complicity in settler colonialism. These are things I am able to do, and already do, through my role as a faculty member. I can do research and teach courses that disrupt the status quo, I can bring voices and perspectives into spaces where we haven't been heard. I can mentor and support Native students, I can make their experience more smooth and better than mine was. Are these the end goal? No. Are these moments going to end white supremacy and settler colonialism? No. But they matter, deeply.
I, as a second year faculty member, should be using this week to finish my syllabi and prepare for the year ahead. Instead, I've spent days helping draft that statement, fielding questions from top-level university officials, answering a deluge of emails, reading up on local Native history, talking to friends who work for the local federally recognized nations, consulting with a tribal lawyer friend, writing this long-ass blog post, trying to understand what's at stake–so we can make sure Brown doesn't mess this up. I'm not mad about these tasks and responsibilities, I'm happy that I have the skill set and am physically here in this space to be able to guide a university that I care very much about, and that I think is poised to do amazing things to support Native communities and Native scholarship moving forward. But it's definitely an extra responsibility no white junior faculty member would have to undertake, and one that doesn't get captured in my tenure file.
The question of radical activism as a faculty member in an academic institution will always be one that I wrestle with. My voice online makes me a target, my scholarship does as well. But I still push hard in the institution, I don't let them get away with things that are harming my students or community. I can assure you that this situation is one that I've approached with the utmost care, weighing perspectives and relationships and roles. It is not a position I take lightly. Do these things make me a sell out and complicit in the colonial system? Maybe. But I'm working hard here.
So I just ask for critical questioning, critical media consumption, and an examination of the political positioning of those who are emerging as the strongest voices in this movement. As Brown makes public their next steps, and Aquinnah and Mashpee release statements, I'll definitely share them here. Brown has been very open to having conversations about how to move this forward productively and insure positive university-tribal relationships into the future. A lot more info will probably continue to come out in the next few days, so I'll try and keep everyone updated.
Wado.