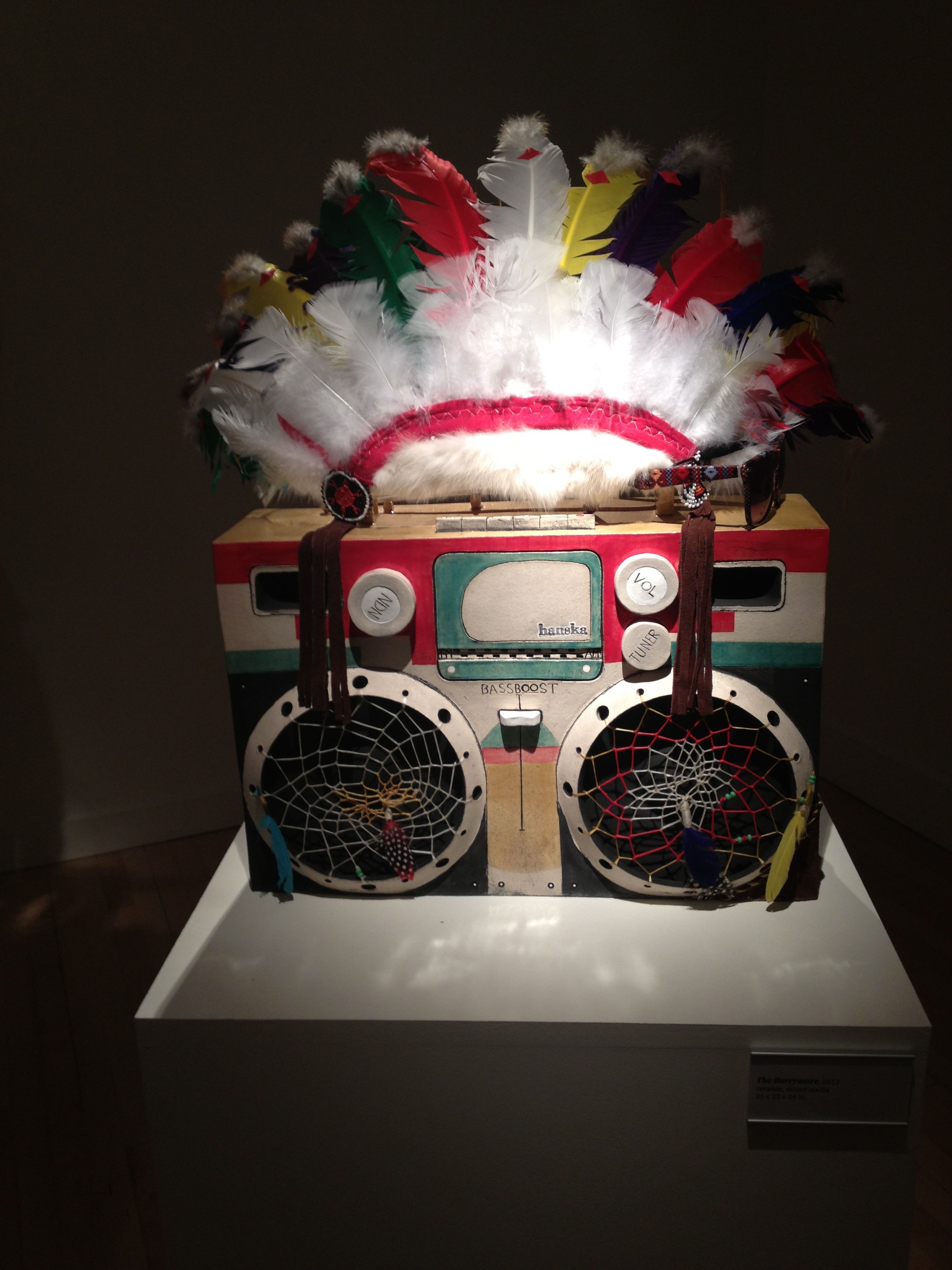 Last year at Santa Fe Indian Market, I had the pleasure of seeing Cannupa Hanska's work at the Museum of Contemporary Native Art. I wandered around his exhibit, and was beyond excited by the pieces–I remarked to my friend that it was "like my blog in art form!" His exhibition was a series of handmade ceramic boomboxes, each representing a stereotypical trope of Native peoples–such as the plastic shaman, the Indian princess, the Barrymore (pictured at the top of this post, and based off this image of Drew Barrymore). The detail that went into each piece was incredible, and there were also didactic panels that went along with each trope to describe the origins and contemporary examples. Here are a few of the other (poor quality, sorry!) cell phone pictures I took: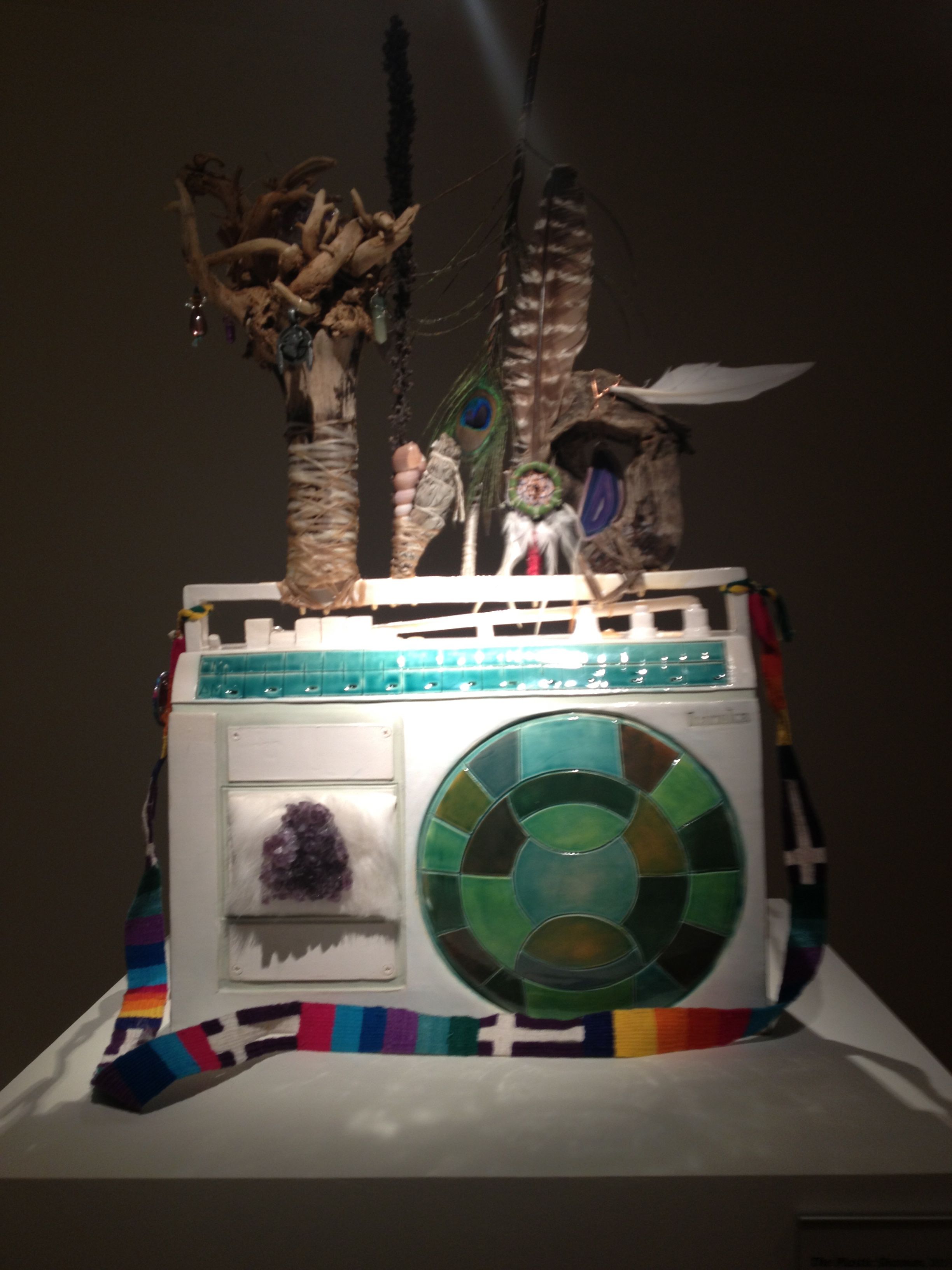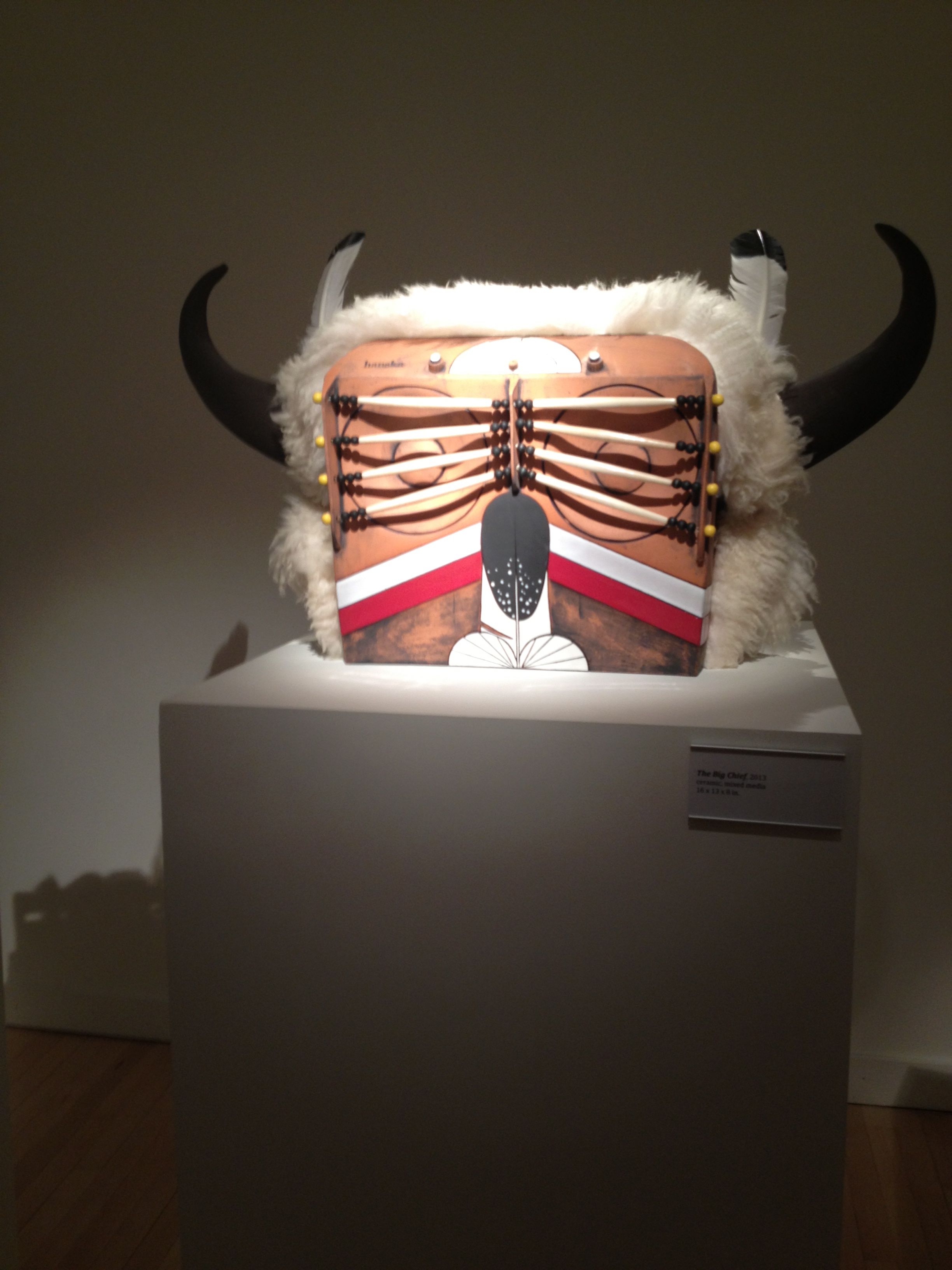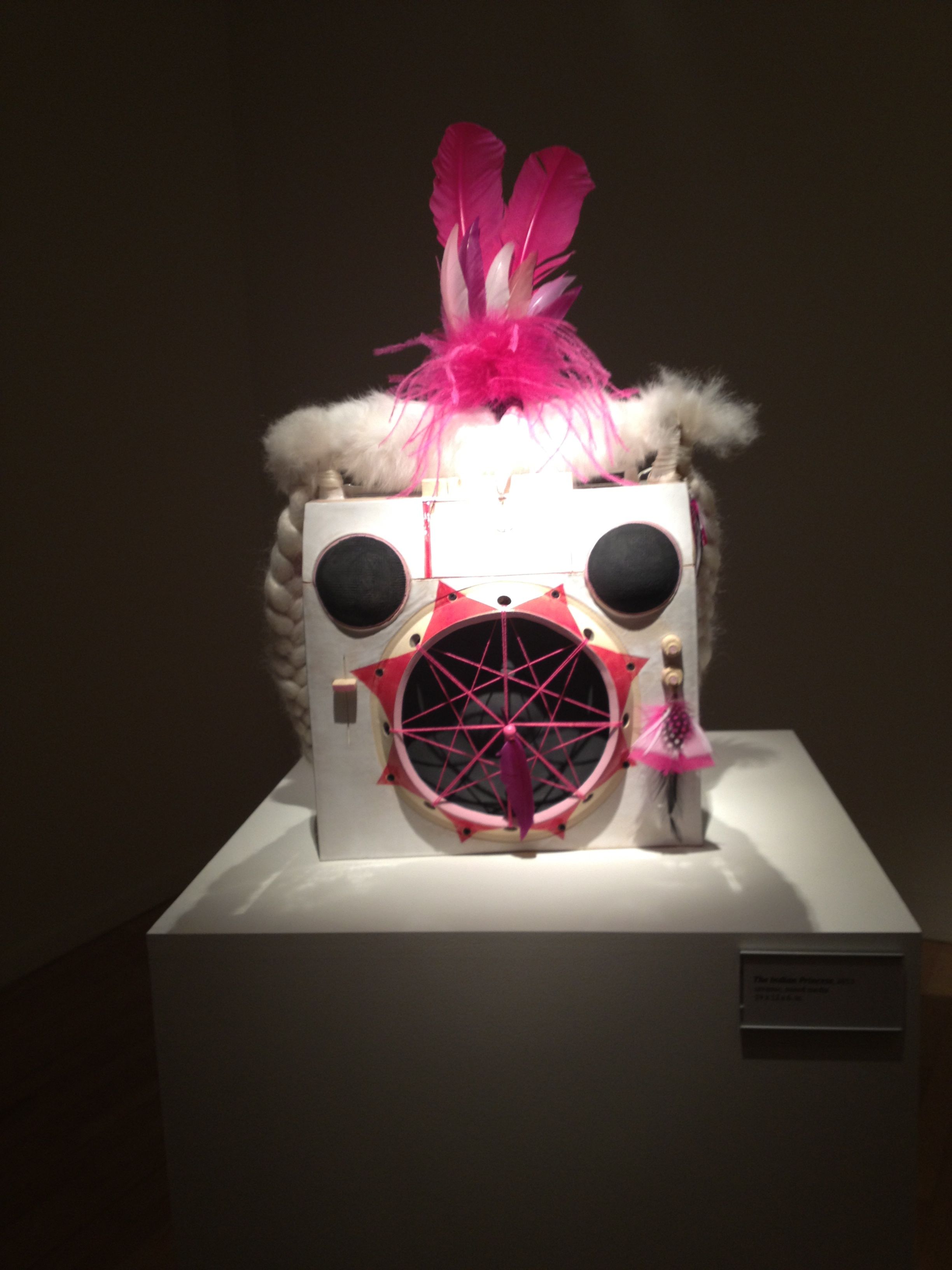 Then, Cannupa destroyed the pieces in a work of performance art, which was covered by Indian Country Today. The video of that event is here:
Now, he's making a film with filmmaker Dylan McLaughlin as a next step of this project, which he describes on the Kickstarter:
This is a Stereotype is a film project motivated from an art exhibition by Cannupa Hanska Luger and further inspired by the vision of filmmaker Dylan McLaughlin. Hanska's body of work, Stereotype: Misconceptions of the Native American exhibited at the MoCNA from Aug. 15- Dec. 31 2013. The exhibition addressed several preconceived notions about Native people supported by popular culture that have been invented, imagined and rooted within the American public's social conscience. Highlighted in this exhibition was a performance, Destroying the Stereotype, where Hanska let go of the stereotypes embodying his sculptures and invited the community to witness their destruction. The remains of the destroyed ceramic sculptures were then placed on view for the duration of the exhibition. McLaughlin documented this process and together they felt this conversation needed to go deeper than this exhibition. There were more questions; the explanation and understanding needed further attention.

The film This is a Stereotype will allow for the continuation of this dialogue, with broader brush strokes than just one artists perspective. The exhibition/performance, Stereotype: Misconceptions of the Native American, was just the spark. It pushed artist Cannupa Hanska and filmmaker Dylan McLaughlin to ask why? Where do these stereotypes come from? Are all stereotypes negative? Do they come from some level of truth? Is there a place to blame? How can we break down these ways of thinking into something positive and useful? Can stereotypes become empowering? How has history influenced the way Native Americans themselves today, and how do non-Natives and popular culture perceives Native Americans? What are the economic parallels of stereotyping? How do you let go of stereotypes? The questions kept coming. The more they talked about it, the more there was a need to dig deeper, to look at many stories of past and present, of ordinary and esteemed, in order to have the proper tools to address the idea of the stereotype.

The idea behind the film will be to invite the audience to ask their own questions, not to simply understand the information they will view about Native identity and stereotypes in this film, but to utilize that information and become active participants in society, thinking critically when making decisions regarding culture and appropriation. We hope to inspire people to seek out their own answers. 
Clearly, stereotypes of Native peoples and the power that they have to shape public perception of Native peoples is something that is incredibly important to me, and I think this film will offer an amazing perspective and window into the history and continuing legacies of these stereotypes, as well as offer some positive representations through interviews with the 1491′s, Apache Skateboards, and other movers and shakers in this field. Any chance we have as Native peoples to speak against against these harmful images that are used to represent us is important–and I think Cannupa's art and activism is a prime example of the power of pushing back.
So, if you can, head on over to the Kickstarter page and support–there are fabulous perks, including cool tshirts, prints, and original works of art by Cannupa. There are only a few days left, and right now the project still has $4,000 to go to reach its goal.
Support the Kickstarter here! 
Here is some of the news coverage if you'd like more info about Cannupa, Dylan, and the project: