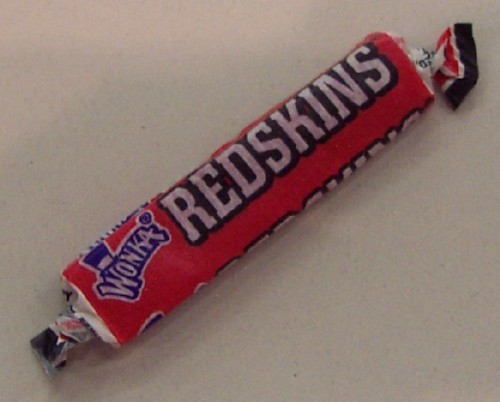 Reader Michelle submitted this example today–apparently Nestle Australia sells a raspberry flavored candy called "redsk*ns".
According to all-knowing Wikipedia,
"In 1996, a complaint was made to the New Zealand Advertising Standards Complaints Board about a Redskins advertisement aired on New Zealand television. The advertisement featured comedian Mark Wright dressed in American Indian clothing and assuming an accent. A mock drumbeat featured on the soundtrack. Despite protest from Nestlé New Zealand that the advertisement was inoffensive, the Board upheld the complaint.[1]
Redskin packaging formerly featured a photo of a Native American wearing a traditional headdress. This was replaced in the late 1990s by a more neutral red character."
Here's one of the earlier packages, sorry for the quality:Read More