(anyone know the source? I love this!) 
I think the graphic above (which I totally want on a shirt) sums it up well, but am I the only one who is baffled by the hipster headdress phenomenon? I've been trying to break it down, thinking back to the hippies of the past–connections to nature, to the mystical, against the mainstream, etc–but those stereotypes just don't seem to fit with today's hipster stereotypes. I'm guessing it's just an iteration of the tribal fashion trends, with a little bit of the desire to be counter culture thrown in there. 
After the jump, several examples from around the internets, and examples of how indie music has hopped on the appropriation train–Juliette Lewis and the Licks and Bat for Lashes are both fans of the hipster headdress. 
(image via latfh.com)
Look at this F***ing Hipster (another entertaining blog) has a slideshow entitled "Someone call the Headdress Police" which is a great compilation of the many iterations of the trend, and does a nice job at pointing out the ridiculousness of it all:
http://www.latfh.com/post/247408833/someone-call-the-headdress-police
I wish I could embed the slideshow, it's kinda awesome. 
Hipsterrunoff declared Native American fashion as "big" back in 2008, though doesn't include any headdress pics. But these pants are really nice: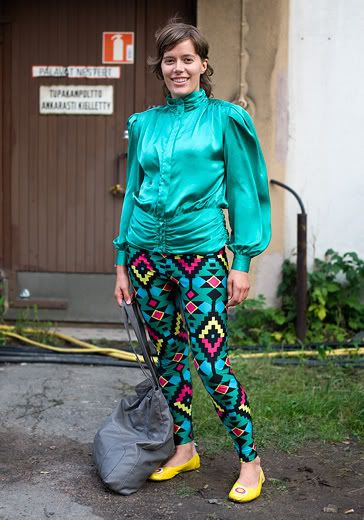 http://www.hipsterrunoff.com/2008/08/native-american-fashion-is-big-in-18k8-2k09.html
Which brings us to the music scene. Two years ago Racialicious's Jessica Yee did a great post examining Juliette Lewis and her band The Licks, and tying it back to Indigenous Feminism. It's definitely worth a read if you have time. Juliette is fond of the "rock and roll warrior" look, which tends to include a headdress and facepaint:
 Jessica ties it back to her feminist point of view:

What I find most interesting though about all this imagery, and in particular Lewis's choice of dress with her band, is actually coming from my raging feminist point of view. In an attempt to appear strong, raw, and unapologetic, people, and in this case, a woman, feels like she has to appropriate Native culture to a pretty extreme extent in order to do a good job of it.
So I guess that goes back to my question about the reasoning behind the hipster appropriations–are hipsters trying to be strong, raw, and unapologetic? I can see the raw and unapologetic, maybe. But are the skinny guys in skinny jeans really going for "strong"?
Juliette and the Licks aren't the only band, the lead singer of a group (that I had admittedly never heard of) called Bat for Lashes is also big on the headdress:
(images via retroglo.net)
Since many of these posts are from 2008, it's interesting that the hipster headdress and the hipster-Native connection is one that has had a bit of staying power.
Semi-related: are there any self-identified Native hipsters out there? I'd love your thoughts.
Related posts:
Racialicious Post on Juliette and the Licks: http://www.racialicious.com/2008/10/02/indigenous-feminism-and-cultural-appropriation/
Retroglo on Bat for Lashes: http://retroglo.net/headdress-the-newest-accessory-2/