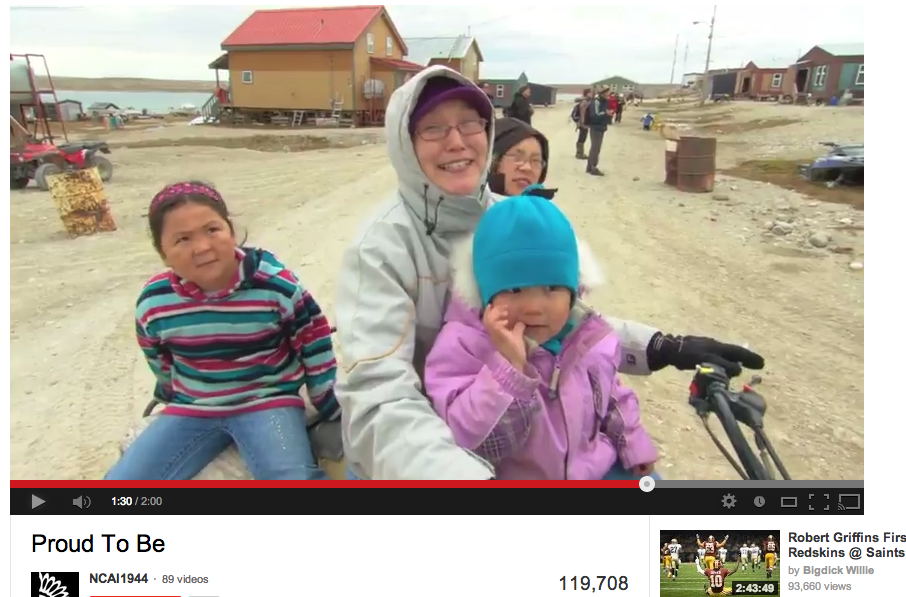 I've been sent this video a bazillion times in the last few days, and I think it's a powerful and important PSA to add to the mascot "debate"*. I've watched it a few times through, and the message by the end is incredibly clear, and I love the final shot of the helmet, without having to say the R-word, asking the viewer to say the word in their head and contrast it to the beautiful images shown throughout the clip. So before I go on, I want you to watch the video for yourself:
It's beautiful. Full stop. I think it's well done and powerful.
….But. I know you all turn to me to have a super critical lens on everything, right? I know you wouldn't expect anything less in this case. I've got a few questions/criticisms/things to think about. My thoughts aren't meant to take away from the visual power and importance, I just want to bring up some things to think about. So don't skewer me, mmmkay?
1) Tribal names. In this video, the filmmakers are attempting to create a counter-narrative to the common stereotypes of Native peoples represented by Indian mascots. So why are we using the western/anglicized versions of tribal names? Navajo rather than Diné, Sioux rather than Lakota, Dakota, and Nakota, Chippewa rather than Anishinaabe, Creek rather than Mvskoke, ect. I know our peoples have different preferences of what we call ourselves, but I feel like it would have been an even more powerful message if there would have been a statement of our tribal names in our Native languages. (#decolonize!)
2) The pageantry/poverty/historic narrative. The whole first minute or so of the clip focuses mostly on powwow images of Native folks in regalia, contrasted with images of reservation poverty, with images of historic figures thrown in as well. Yes, the vast majority of Americans don't have access to any images of contemporary Native peoples, so the powwow and poverty images are important. But, I really feel like it's time for us to complicate that narrative. With the historic images, yes, it's definitely important to recognize the contributions of our leaders in the past–but why do we always have to return to the Edward Curtis photographs and Sitting Bull to make a point about modern Native peoples? And don't get me started on the inclusion of the shot of the Crazy Horse "monument"–a monument of a warrior who never wanted his image captured, being blasted into the sacred black hills by a white dude.
ETA 1/1/14: Hat tip to Sasha on FB who also pointed out all the historic leaders who were highlighted are male, which I totally missed the first time around. Definitely problematic.
I don't know. I get it, on a certain level, and understand the narrative that they were going for. But I continue to wonder why we tend to fall back on stereotypes even when we're representing ourselves.
BUT. I will say, when the clip hits about 1:27, I start to like it a lot more. The images start to show more just casual shots of Native folks hanging out, laughing, whatever. I think if the clip was cut from 1:27-1:47, the message remains the same, but you get away from the problematic pieces. That's why I chose the screenshot at the top to represent this post. I like those contrasts of modern, smiling, Native folks who are just living their lives with what most people think of when they think "Indian."
What do you think? Am I being too critical here? Do you have other thoughts?
Again, one last disclaimer: I think this is important, and if NCAI had millions of dollars to show this during the Superbowl, I would support it. But I also think we need to continually question and push the narratives of our peoples, and think deeply about the ways we represent ourselves as well as how outsiders represent us.
*(from now on I'm putting "debate" in scare quotes because I'm getting really tired of pretending that there are two "sides" to this. Indian mascots are demeaning, offensive and need to change. There's no "debate" here for me).