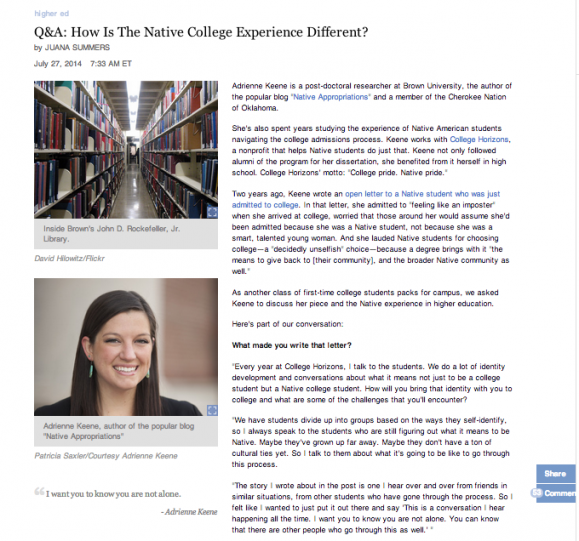 Last week I chatted with a super kind and engaged reporter at NPR. She found my blog because my colleague (thanks Todd!) tweeted her in response to a call for interesting education folks to follow on Twitter. She read through my blog, and came upon a post I wrote a couple years ago–"Dear Native student who was just admitted to college"–and wanted to ask me a bit more about it. So we talked for 15-20 minutes so I could give some context on the post and my doctoral work that has stemmed out of these areas in Native higher ed. She posted an edited version of this convo on the NPR website (I say "like" a lot irl, she kindly took that out, as well as some of my filler/background info), where it has gotten a pretty big response.
Here's the article. I like it, and think it covers a lot of ground for a short piece.
I was stoked to get to talk about my "other" life in Indian Ed, since I'm still finding my voice in that area (haven't been blogging about it for five years, though I have been studying and researching for that long…). I think anything I can do to signal boost Native issues in higher education and help shed light on our experiences, struggles, and triumphs in college and beyond is important.
But they included a headshot on the post. One that is the thumbnail every time the article gets shared. I didn't even think twice about it–most people who know me and the blog know who I am and where I come from, and yes, what I look like. But I forgot, this is the internet.
To be fair, as always, there are tons of positive comments. I've received a bunch of emails from students and graduates that have made me happy and heartened. But for those of you who have been reading this blog for a long time, you know this is constantly something I deal with, and this article wasn't anything new. Ready? Here's a sampling (Yes I left their real names. They said it on a public forum…):



and on the article itself (to be fair, it was just one dude…though NPR has pretty strict comment guidelines, so there could have been more):



ETA: Just to show this comes from all sides, there's also this comment from a Native person (the comments from fellow Natives always sting):

On both the NPR article, and definitely on the Facebook thread on the NPR page, my identity is being dissected by hundreds of people who don't know me. Who don't know how I relate to my Native heritage, the work I do, who my family is, anything. I also think it's kinda hilarious–do they not realize that, as a blogger, I'm on the internet? Reading their thread?
But y'all know it's not new. If you need a refresher, read the comments on, oh, any of my "controversial" articles. Or read the drama I went through over Tonto. Maybe the 500+ comments on this Pocahottie article. Or the follow-up I had to do after it. It's par for the course. I also specifically address my white privilege a fair amount, see the end of that Tonto post, or the annotated version of my Pocahottie letter for examples. I know my white privilege has afforded me protection and opportunities. That's why I write about it.
I am 98% positive that if this NPR article wasn't accompanied by a photo, we wouldn't be having this conversation. There is very little commentary challenging my ideas, or what I had to say about Native students transitioning to college–it's all focused on how I look.
You wonder why I care so deeply about representations? This is why I care. Because all those people think that Native identity is tied to looking like something off the side of a football helmet.
This isn't just something that happens to me, either. Last week, the Center for American Progress hosted a forum about Indian Mascots, and an incredible 15-year-old Native student named Dahkota Franklin Kicking Bear Brown spoke to the group. He talked beautifully about the effects of mascots on his schooling experience, and also what it means when fellow students, and even his vice principal, say he doesn't "look Indian," and how it is all tied in together. This sentiment is real, and it's all connected.
One of the other commenters on the FB thread mentioned how I "don't have a wikipedia page" or even a bio on the blog, so they were skeptical of my credentials–basically waving the wannabe flag. It is true I don't have either of those things (but um, who wants a wikipedia page?). Honestly, it's by design. If people are *that* desperate to find out about me, they can google and find all sorts of articles and videos that talk more about my background. I don't want my phenotype and hometown to color initial perceptions of me and my words. I want my writing to speak for itself–because I have never lied about who I am, and write about it all the time on the blog.
In writing Native Appropriations, I am inviting readers into a community. I want folks to get to know me, know how I think, operate, where I come from, what ideas we share, and where we differ. I love comment chains where we have discussions that push my thinking and help me grow. I love when it's an equal exchange of knowledge. That can't happen when I'm summarily dismissed. So I never "got around" to making an "about" page. I'm all up in this thing. It hasn't seemed to hold us back. But, for better or worse, that's not the way the internet functions. People want quick, easily digestible sound bites. They don't want to enter into a relationship (which is the Indigenous way of doing things…). They want to be able to categorize and move on. Which is what happened with the NPR piece.
I have deep, deep anxieties about my new post-graduation life as "Dr. K"–of entering academia with the weight and privilege of Native Approps behind me. I have actual nightmares of folks finding academic articles I write and lambasting my scholarship all over the internet. I worry about not living up to the "hype." I say weight and privilege–because I know that no matter what my research is probably going to have a wider audience than most, simply because of the blog. That's amazing, and such a privilege to be able to know that I can push forward conversations about Native students and representations to an engaged audience. It's also intense, because most young scholars get awhile to find their voice and place in their research, but I know that I'm going to be under a microscope pretty quickly. I honestly try not to take to heart what people say about my blog writing, because I still consider it a hobby, but my academic writing is and will continue to be my life. This gave me a small window into what the next few years of my career might bring, and to be honest, it kinda (ok really) freaks me out.
But, if my picture and my story can bring to light these conversations about Native identity that need to happen, and if I need to be the literal face of that conversation, then I'm ok. Because we need to talk about it. Colonial legacies of blood quantum have real effects in our communities, and these conversations happen over, and over, and over without moving us forward.
Because Native identity isn't just a racialized identity. Native identity is political. We are citizens of tribal nations. So we can't just talk about our identities purely in racial terminology. Thinking about our identity as purely race-based is another tool to wipe us out. Cause you can "breed out" this notion of "blood" but you can't "breed out" citizenship. There's also a deep power issue here–who has the "right," especially as an outsider, to determine someone's identity for them? But these are big topics for another day.
So because this is a topic we've addressed before, I'll just quote directly from the end of my "Real Indians don't care about Tonto" post, and say this–this is the reason why I continue to fight. This is the reason why I'm still here:
But instead of feeling ashamed, I'm trying now to turn the tables and think that I, instead, am the colonizer's worst nightmare. Because history has tried to eradicate my people by violence and force, enacted every assimilating and acculturating policy against my ancestors, let me grow up in white suburbia, and erased all the visual vestiges of heritage from my face–but still tsi tsalagi (I am Cherokee). My ancestors gave their "x-marks"–assents to the new–so that I could be here, fighting back against misrepresentations, through a keyboard and the internet.
The underlying motivation behind this blog is not only to critique and deconstruct representations of Natives, but also to be able to openly explore what it means to be a contemporary Native person. And more specifically for me, what does it mean to be a millennial, nerdy, doctorate-holding, mixed-race, Cherokee woman?
Moving forward, I hope these are questions we can continue to answer together, through the blog, my research, my teaching, and ongoing conversations on and offline. This NPR article has shown us that there is power in getting our stories out there, but that we still have a ways to go. And that's ok. These were conversations that weren't happening openly in public forums just a few years ago. It's a journey, one that has brought me incredible joy and challenged me in incredible ways. I'm happy to keep rolling along, learning, making mistakes, and figuring out what it means to be me, but also, what it means to be us. Because learning about the ways we relate to one another, Native to Native and Native to non-Native, is at the heart of all of this work.
As always, wado for being here with me on this path,
Adrienne
NPR: Q&A: How Is The Native College Experience Different? (7/27/14)
PS- I'm going out of the country for the next four days to hide from the paparazzi, Beyonce style (j/k), so the comments are yours to debate my face at will. I'll be back on Friday night.