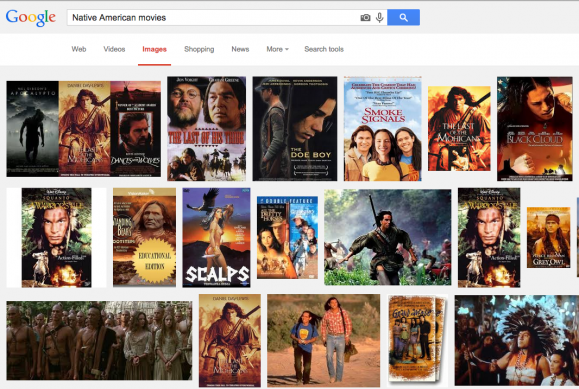 Three weeks ago*, the MacArthur foundation announced this year's crop of "genius grant" award winners, which honored the incredible Native feminist and activist Sarah Deer, as well as 20 other amazing (and amazingly diverse) folks. Among that group was Alison Bechdel, a comic artist and author, but more commonly known for her creation of what we now call the "Bechdel Test."
The Bechdel test is a simple test to evaluate films (and other media) for portrayals of women. To pass the test, a film must have:
1) Two female characters (some variations of the test say that they must have names, which is fair I think)
2) Who talk to each other
3) About something other than a man
It's truly horrifying/amazing when you start to apply this baseline to many, many critically acclaimed and beloved films to see they fail. I, personally have found it to be a really useful tool for starting discussions with friends and colleagues about films, it's an 'objective' measure that points out gender bias, no "feelings" involved.
Here's the original comic strip which details the test (Bechdel actually gives credit to her friend Liz Wallace for the idea):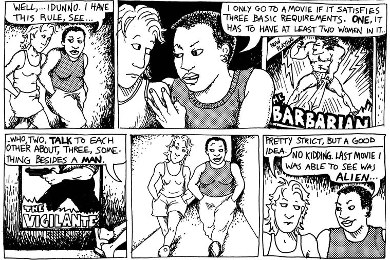 Two notes: 1) Many crappy films that are horrible on some other dimension will pass the test. The test is not meant to be a measure of quality, just a bare minimum starting point. And seriously, that's a pretty low bar. 2) To paraphrase the badass Anna Sarkesian of Feminist Frequency, it is completely possible to enjoy a piece of media even if you find parts of it problematic and worthy of deeper discussion and analysis. I'm not telling you all your favorite movies are the worst and you should just never watch anything ever again. ever.
So, back when they announced Bechdel's award, I threw out the idea, and we had a nice discussion on twitter about it (you can click on my tweet to see some of the replies):
What would a "Native Bechdel Test" look like? Two Native characters, who talk to each other, about something other than white people?

— Dr. Adrienne K. (@NativeApprops) September 17, 2014
After some back and forth with folks, we added the name requirement:
#NativeBechdelTest: Two Native characters (w/names!), who talk to each other abt something other than white ppl. Thoughts?

— Dr. Adrienne K. (@NativeApprops) September 17, 2014
and then I started throwing out films to see if they would pass. I haven't seen most of these movies in forever, so we (twitter friends and I, I'm not talking in the royal "we" all of a sudden) could be wrong on a few. With all of these that are on the fence, it still says something that we have to rack our brains and pull out tiny 30 second to 1 minute scenes to make it pass.
Dances with Wolves: Fails. We think. Pretty sad, when you think about it.
Pocahontas: Passes (see what I mean about not determining quality of representation).
Twilight New Moon: Passes. But *barely*–mainly just because of this scene, and I don't know if we count scenes when they are in wolf form?
Last of the Mohicans: Unclear. I've only seen the movie once, four years ago. I thought there was conversation before the last epic fight scene, but I just rewatched it and there isn't. I'm sure one of you has a better knowledge of the film and can let me know.
Lone Ranger: Fails. No surprise there.
Smoke Signals: Passes. Most Native made films pass (one would hope, but you never know).
We can keep going and include TV shows:
Law and Order, SVU: Fails. Adam Beach never gets to talk to another Native. Sigh.
Big Love: Might barely pass, according to @BlackGirlDanger
So this is just a tiny handful of examples to get you thinking. A lot of these were heralded as films about Native Americans, or at least featuring Natives heavily, and yet they don't (or just barely) have two Native characters with names that talk to each other about something other than white people. The original Bechdel Test was designed to point out gender bias in film, and the point of this Native Bechdel Test (we can come up with a snazzier name if you can think of one) is to point out how whiteness and white narratives of history are so normalized and centered in our society–and therefore our media portrayals.
There were several folks on twitter who suggested adding a caveat that the characters are not stereotypical tropes, or aren't romantically involved with one another, but I think the beauty of the original test is its simplicity, understanding that this would be the beginning of a conversation, not the end.
Finally, @bafroe threw out the idea of doing a second layer of analysis with the original test:
@NativeApprops Should also retain some original bechdel in there too to see how many speaking roles include indigenous women (for analysis).

— Brock A.F. Roe (@bafroe) September 17, 2014
Which adds a very interesting dimension. Does Smoke Signals pass the gender test? I don't think Pocahontas does. Just another level to think about the ways that patriarchy plays out in Native communities and Native films as well.
So, to reiterate:
Native Bechdel Test: 
1) Two (named) Native Characters
2) Who talk to each other
3) about something other than white people
What do you think? Is this a useful tool of analysis? What other films pass/don't pass?
*I literally wrote and almost finished this post three weeks ago and never posted. Better late than never, right? Sorry!