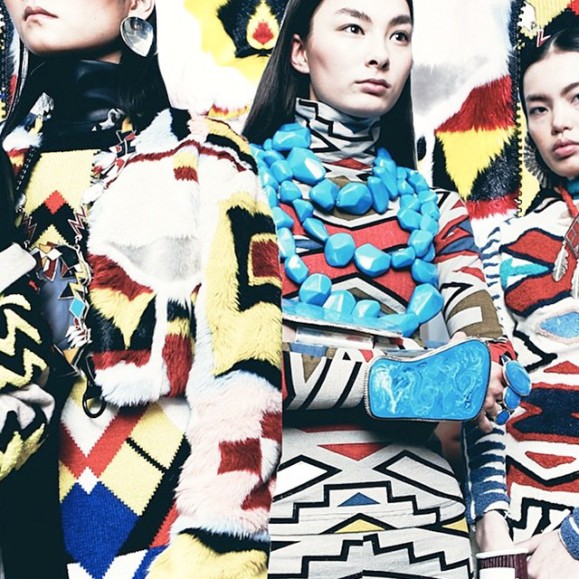 I write about cultural appropriation in fashion a lot. I've taken on big brands and small brands, arguing that our images and cultural property should be taken seriously. But today, things got personal. Brand KTZ's Fall/Winter line at New York Fashion Week was "a tribute" to Indigenous peoples. There's a lot to critique in the line (and I will), but nestled among the 45 looks was this dress: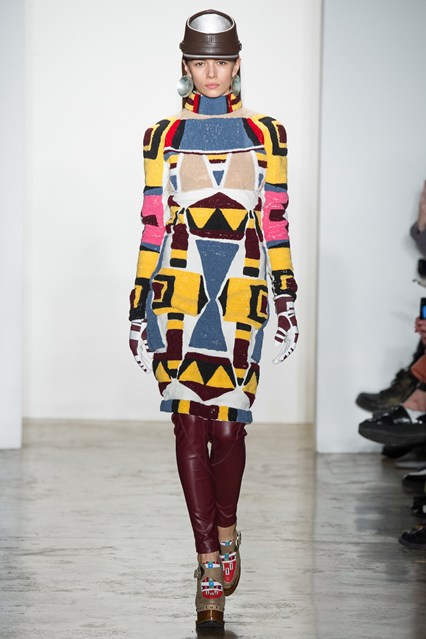 Does it look familiar? It might, because it is a DIRECT rip-off of my friend Bethany Yellowtail's design from her Crow Pop Collection: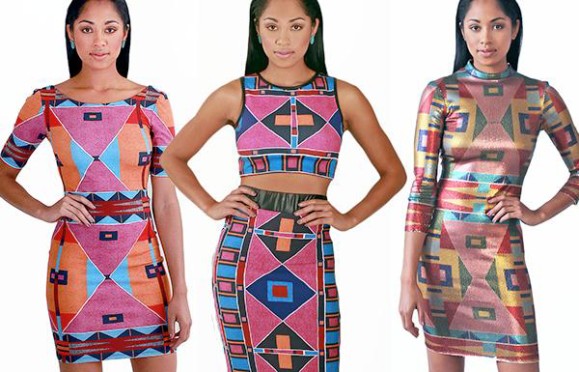 If you need a side-by-side: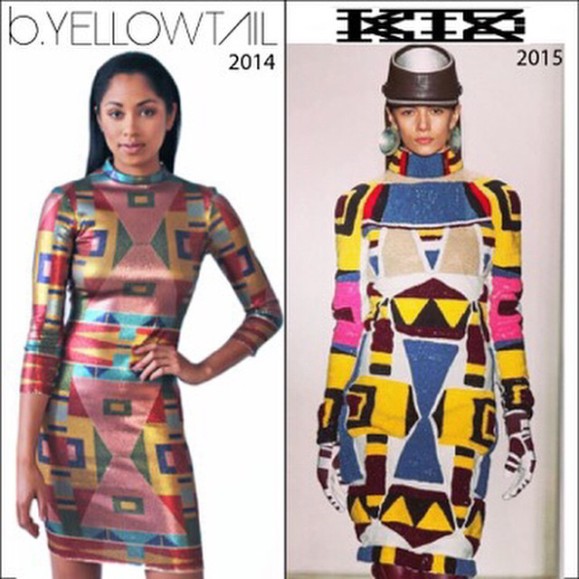 Notice the form of the dress is the same, with the collar, the length, the shape, and the designs are clearly "inspired" by Bethany's. Here's the thing. Bethany's design is not just a collection of abstract shapes, she utilized Crow beadwork that had been in her family for generations for her design. The colors, the shapes, and the patterns have meaning, origins, and history. They belong to her family and tribe. They are cultural property, not designs that are free for the taking.
In this video clip from FNX, Bethany talks about the beadwork designs and what they symbolize, as well as her journey to incorporating these designs into her work:
When I listen to her words, I hear humility and care, and she demonstrates how much thought goes in to incorporating her culture into her designs. This is not a task she takes lightly, and she realizes that these designs are for her community as much, if not more so, as her career. Bethany understands that responsibility, and takes it on with pride. She is a wonderful example of why Native people need to be the ones designing from our cultures–this knowledge and understanding comes out of community ties and respect, and is hard, if not impossible, to achieve without that deep connection to culture.
(2/19 ETA) I'm realizing folks aren't necessarily watching the video, so I'll transcribe out what Bethany says about the designs, starting at 1:26: "I started with beadwork that has been in my family for generations. This was actually my great grandmother's, Irene Yellowtail. This is from the early 1900's. This design here is really traditional to the Crow people. I remember when I was younger, I was told that this balance shape, this meant our spirit world and our physical world, and this is where the Crow live. So I started reflecting on those things, and this beadwork is really dear to me, so I realized that was what was going to start guiding me. That balance. So that's really prevalent in my designing–that shape. And it's really common in Crow beadwork, and they still use it today in contemporary ways." 
Here's the beadwork next to her work: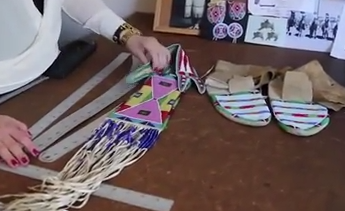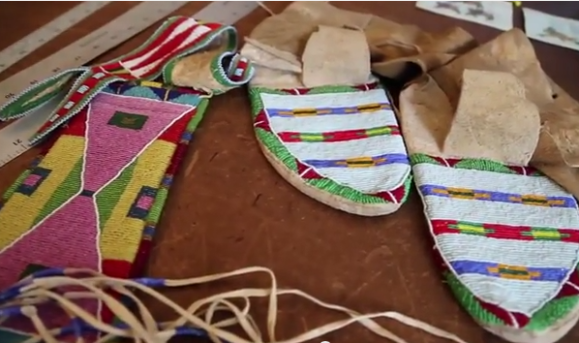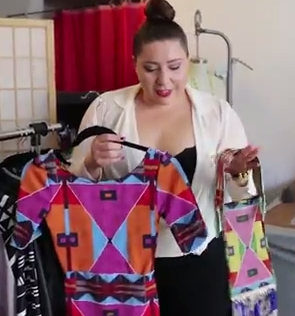 As you can see from the KTZ design above, this balance shape that is so important to Bethany and the Crow people is exactly the one centered on the dress in question. It's not "just" inverted triangles.
So back to Marjan Pejoski, the designer behind KTZ. He's a Macedonian-born, Bali-living designer who is most well known for a rather infamous Swan dress. He's not a household name, but is definitely highly influential and often named a designer "to watch"–whatever that means. According to Women's Wear Daily, he said in an interview that this Fall/Winter 2015 line was "a tribute to the primal woman indigenous to this land, who evolves into a sexualized, empowered being". So many things wrong with that statement. So otherizing and exoticizing. So stereotypical. Also, in no way is this a "tribute." This is a mockery and a celebration of cultural theft.
Here are a few more images from his collection, the full runway can be seen here at Vogue.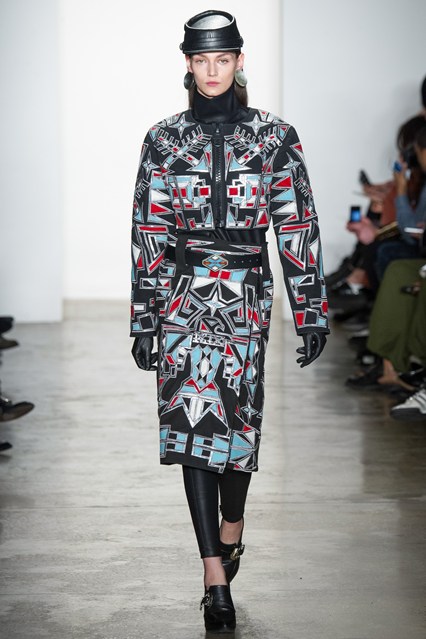 This is a direct lifting of Navajo Yei weaving designs:
Here's a traditional rug for comparison: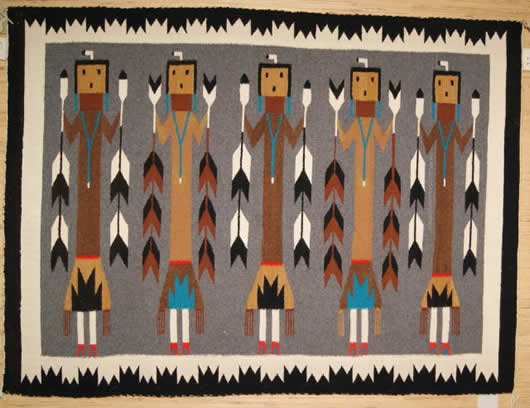 There's beadwork: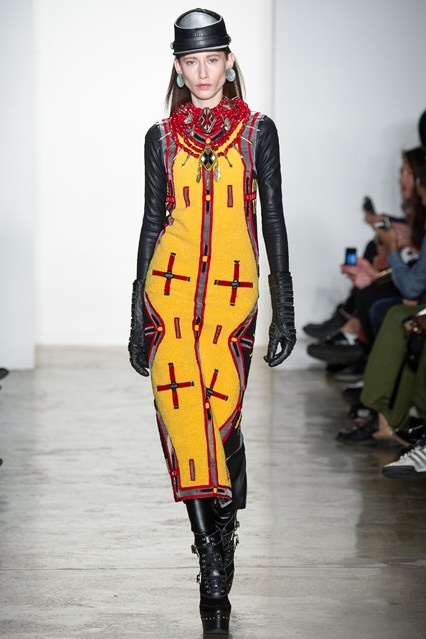 And of course feathers: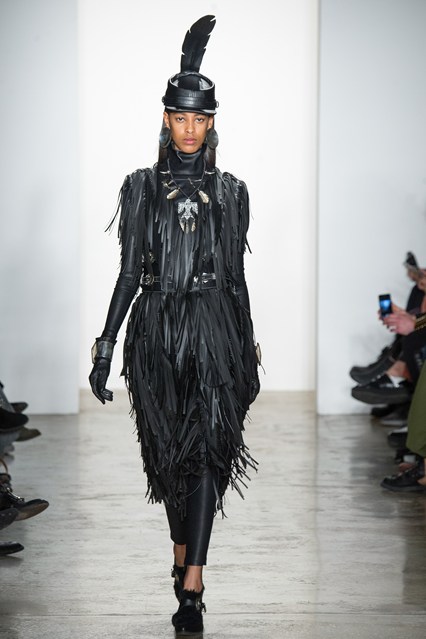 So far, this has happened at nearly every fashion week in the five years that I've been writing Native Appropriations. There was Nicholas K's "Apache Shamanistic Journey," and Karl Lagerfeld's Chanel disaster that happened nearly a year ago to the day, as well as many, many others. When Jessica Metcalfe of Beyond Buckskin saw the Chanel photos last year, she said on Facebook, "In addition to this being the same ol same ol privileged white people playing Indian, Karl Lagerfeld hasn't had a creative idea since the '80s. Even with this show he's just rehashing Ralph Lauren and Gaultier and playing the 'trendy headdress' card. So yes, I give him a huge double fail."
That, to me is a huge part of this. There is absolutely no creativity here. If I can point to several other lines in the last year, and dozens more over the last decade, that have done the exact. same. thing., there's nothing original or new about your designs–cultural appropriation notwithstanding. It was our people who did the heavy lifting creative work for you. We designed these images. We have the knowledge and understanding of what they mean and how they can be appropriately used. We evolved and developed and maintained our cultures for thousands of years. Our cultures are not in, what Jessica calls, "the free bin" for your taking.
So why is it that Indigenous intellectual property is not seen as "real" intellectual property? Yes, the boundaries are difficult to find and difficult to enforce–but if KTZ had directly ripped off images from, say Valentino, or Yves Saint Laurent, or, shoot, McDonalds or Apple or anyone else, there would be a major case to be made about violations of intellectual property rights, and people would scoff at his lack of creativity. But "primitive" or in his words, "primal" peoples are not ever given the same consideration. Our designs and cultural markers are used to "enhance" white culture, while white cultural artifacts are protected and policed.
The bottom line is this: There should be no representations of us, without us. You want to draw upon Indigenous cultures for your line? Involve Indigenous artists and designers. There is no alternative answer. You love Bethany's Crow designs? Call Bethany. Collaborate with Bethany. Give her a chance to show at New York Fashion Week with you. The fashion world costs hella money to get a foot in the door, so if you as a designer truly want to offer a "tribute" to Native people? Bring a Native designer up with you.
But I have one last concern, and it's been something working at me since the Ralph Lauren debacle a couple months back. These days, the outrage machine is quick and fierce when brands appropriate our cultures, and I love it. Immediately folks mobilize online to get the company to apologize and make changes, and we have the ability to take down multi-national companies in hours. It's amazing. But there's a dark side. Our dozens of columns and think-pieces, thousands of tweets and comments–they offer free publicity for the brand/designer/company. For a few days, their name is everywhere, their site stats shoot through the roof, and their pictures are on the front page of blogs and news outlets nationwide. The old adage "no such thing as bad publicity" may ring true in these cases, because there is truly little consequence for these brands. They release a half-hearted-non-apology, they take down an offending image, they shrug and move on. We, as a community, can boycott these brands, but Native peoples and our allies are such a small percentage of the population, and let's be real–how many of us are buying high-end luxury fashion? So for the week or so that these instances take center stage, everyone knows Marjan Pejoksi (had you heard of him before? Probs not.), and in a few months, the outrage will die down, and we'll forget why we know his name–we'll just know it.
It frustrates me, and I don't know what to do to change it. Right now, this is the only recourse we have, and it works–to a certain extent. We as Native peoples deserve respect, and we have to demand it through the channels we have available to us. Awareness is huge, and has done so much for preventing these instances from happening more. But there needs to be another step, and we do need to acknowledge that our well-functioning (since we never get a break!) outrage machine may be giving some of these folks exactly what they want.
I spoke to Beth this afternoon, and she has been thinking through what the best outcomes would be for this situation. The dress in question isn't in stores yet, and she is adamant that it not ever end up on the racks, and I agree. She also would like a conversation with the designer, either on camera or in person, to discuss what happened. Beth wants him to see her. As a Native person, as a designer, as a contemporary in the fashion world, not as an ancient artifact.
The other piece she pointed out that resonated deeply with me are the layers of erasure, violation, and power that went into this situation. KTZ wanted honor Indigenous women, but instead they erased us. We talk so much about missing and murdered indigenous women, and this is yet another example of how we are systematically erased. And for Beth, as a Crow woman, putting these designs out to the world is a deeply personal process–and that connection, that spirituality, was violated by Pejoski. It's not just a design, it is her entire being as a Native woman represented in that dress. Not to mention the power imbalance here. In the words of Matika Wilbur (we had a fancy Indian conference call), "this is modern day colonialism at work." So painfully true.
But right now, how do you, as an individual, contribute to positive change in this area? Support Native designers. Buy Bethany's amazing line. Visit the Beyond Buckskin Boutique. Contribute to real Native fashion.
Tweet out your support for Bethany (@byellowtail), contact KTZ through their twitter (@KTZofficial), their Facebook page, instagram, or website. Let folks know that we mean business, and that our cultures aren't free for the taking.