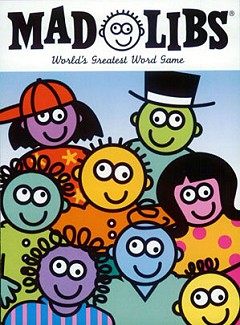 Dear <Company/Individual/Celebrity name>,
Hey, you know that <noun> that you <verb, past tense> on/in <place> <timeframe>? While you might have thought it was <gerund*> to Native peoples, the reality is that it's actually extremely <adjective> and <adjective>.
There are over 566+ tribes in the United States, and the <noun> that you <verb, past tense> reduces us into a one dimensional stereotype that erases the diversity of Native communities. Each community has our own language, histories, and cultures–there is not one "Native American" anything in the US.
You might say <dismissive phrase>, but these issues of representation matter. They matter because Indigenous peoples were slated for extinction with the arrival of colonists, and in order to obtain the land and the resources, Native peoples had to be removed from the land. We were <violent verb, past tense> and <violent verb, past tense>, and in order to justify this, we had to be painted as <negative adjective>, <negative adjective>, and <negative adjective>. Your cultural appropriation just continues that process, continuing to erase our current existence and disrespect our cultural heritage. We are <positive adjective>, <positive adjective> communities, and deserve to be treated with respect.
So, <Company/Individual/Celebrity> how do you fix it? You can start with an apology, one that owns up to what you did, does not say "sorry you were offended," and then lays out a plan for how you will move forward. I would recommend a donation to <awesome Native organization>, who <description of the awesome work they do>. I often say that there should be no representations of us, without us–so how will you include Native perspectives and voices moving forward? There are any number of Native <occupation, plural> that you could reach out to for a collaboration, such as <badass Native> or <badass Native>. They can help you think through the ways you are representing Native peoples, and past experience has shown that the community will rise up and support collaborations that are done right.
You may not read this letter, <Company/Individual/Celebrity>, you may not think this is anything worthy of your attention or time. But <timeframe> when you <verb, past tense> that <noun>, you sent a message to Native peoples we, our cultures, and our communities don't matter to you, and I hope this letter can help you see that our <positive adjective> peoples are still here, and we still matter.
<Closing in Native language>,
<Your Name>
 (Her video, in case you haven't seen it)
So yeah, this is a little tongue-in-cheek, a little bit of a joke, but dudes, I'm tired. Feel free to use as you see fit, feel free to post completed versions in the comments. Also, I know it's not perfect…roll with it. Xoxo
But if that doesn't work:
Dear <Company/Individual/Celebrity name>,
<Interjection!> <Interjection!> <String of words your mom probably wouldn't want you using>. <Word that rhymes with a water animal that quacks>.
<Passive aggressive closing>,
<Your Name>
*Though I might have a lot of fancy degrees, this was actually a very informative grammar lesson. I had to look up this word. Whats the word for a word that ends in "-ing"???