This is one of those things where I had to read the original article a few times to make sure this wasn't some bad attempt at satire–but no, Harrodsburg Kentucky is hosting its 2nd annual James Ray "Indian Attack" 5k as part of "Pioneer Days."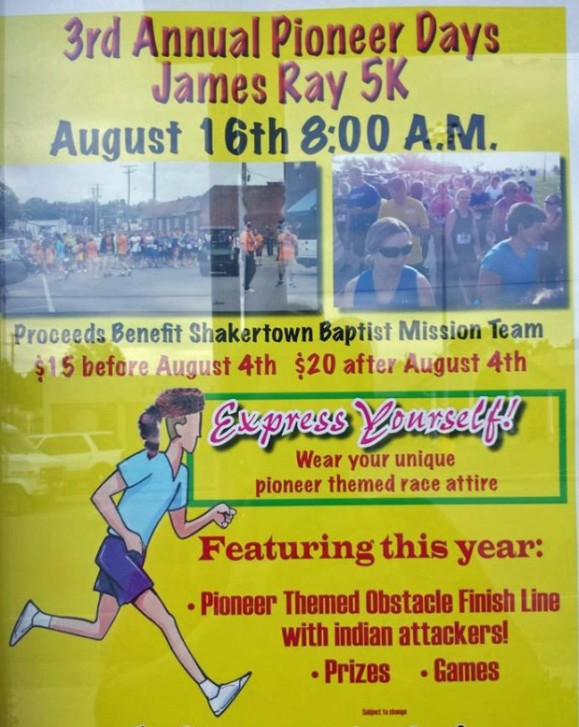 What's the concept of the "Indian Attack" 5k, you ask? Well it's simple. White people dress up in redface, and chase other white people, who escape (while dodging water balloons and other projectiles) into a "fort" at the finish line. THIS IS ACTUALLY A THING.
For more, let's turn to Central Kentucky News (Note: the original headline on this piece was "Want to get chased by Indians? Enter the James Ray 5k"):
"It's not every day you can find a 5K — or any race — where American Indians reenactors  will chase you to the finish line. Yet that's exactly what you'll get Aug. 15 at the James Ray 5K — Indian Attack in Harrodsburg."
I wonder why it's not everyday you find a race where American Indian "reenactors" chase you. I wonder why no one wondered that.
"Last year the event wanted to come up with something to make its 3.1-mile event unique from other races. That's how the idea of having American Indians reenactors chase runners near the finish line originated, and Wasson [the coordinator] said it went over so well that the same plan is in place for this year's race."
You know what would be unique? Stereotyping an entire race as savage attackers and playing out Indian warrior fantasies! There's something really weird about using "reenactors"–there are still Indians today. Lots of them.
"We're getting set up for this again," she said. "The (American Indians reenactors) will chase runners, and it seemed to be something that everybody really enjoyed last year. It was a big hit and came off as unique as we had hoped it would."
Our town is not at all socially aware or progressive, so no one protested or realized this was a horrible idea…so we're doing it again!
"If that's not enough, Wasson said there will also be a "fort" at the finish line for runners to go into to help portray what it was like for James Ray."
"…to portray what it was like for James Ray." Oh, ok, so this is based on some sort of historical event? Like an actual thing?
"He lived in the Shawnee Run area and really did have encounters with (American Indians), and we wanted to try and re-enact the encounters that he had."
Oh. So you're basing it on some Wild-West-Savage-Indian stereotype? Got it.
"General James Ray came to Fort Harrod in Mercer County at age 14 or 15 in 1775 from North Carolina with a party led by Daniel Boone. He served as an Indian spy and hunter for Fort Harrod, served in the campaigns against the American Indians and served several years in the Kentucky Legislature. He also reportedly raced with Blackfish Indian warriors to sound a danger signal to the settlers."
Question: is this a case of a grammar error or am I correct in reading that James Ray was an Indian hunter? Like, he hunted Indians? Wow. In any case he "served in campaigns against American Indians." GREAT. LET'S CELEBRATE THAT DUDE.
I just want to break this down for you. A town in Kentucky, which I'm guessing is not a completely Native town, signally how they were physically killed and/or relocated (ie CHASED) out of that land, holds a "pioneer days" festival to "celebrate" that history, complete with a 5k named after a guy who's job it was to kill Indians…and decided that the best way to "honor" that history was to have white people dress up as the worst Indian stereotypes and chase runners into a fort. And not one single person thought that was a bad idea. In fact, it was so great they did it again!
Speaking of doing it again, here are some choice quotes from the article last year (where the photo at the top comes from):
"Dressed as Native America warriors, Nick Laymon and Kayla Slone giggled as they waited to swoop down with a little extra "fuel" at the James Ray 5K's finish line. Veins popped out of Laymon's neck as he and Slone bellowed and shrieked, inspiring more laughter than fear as they chased runners all the way to the finish line."
Always the "warriors"–what makes them warriors? Like, honestly. Always warriors and princesses. But the "veins popp[ing] out" of his neck? What's the point of that detail? To make him seem more savage and war-like? Gross.
Ashley Lanham, 8, and Hope Lanham, 9, ran like braves in their Native-styled gear as they beat their grandfather, Harold Lanham, to the finish line. Ashley Lanham had no hope of being missed in the dark in her bright blue and hot pink street clothes and a beaded skirt. "We made my skirt out of an old pillowcase and everything else we found around the house," Ashley Lanham said. Hope Lanham won a prize for her attire, a brown dress and facepaint. "We didn't get ambushed," Hope Lanham joked.
This part just made me sad. 8 and 9 year olds already being taught that an "Indian" is something you can dress up as by pulling together an old pillowcase and face paint, and that "Indians" ambushed and attacked, and existed alongside "pioneers" (ie not today).
But lest you think it's limited to subtle racism, Harold Lanham's gotcha covered:
Harold Lanham joked as he rubbed his bald head. "I told them I've already been scalped," he said.
Thanks for that, Harold.
So the internet wave crashed down hard on the town yesterday, so apparently they released a statement that reads (courtesy of CBC):
"All concerns expressed on the James Ray 5 K have been heard and the race has been altered accordingly," reads the most-recent post in its feed.
The Mercer County Chamber of Commerce also posted the following message on its website:
"The Mercer Chamber of Commerce and the Pioneer Days Festival Committee, after being made aware of an inappropriate reference to Native Americans in a story and advertisement published in the Advocate Messenger, has pulled all references to Native Americans in its print and internet media. All sponsors of any event held in conjunction with Pioneer Days has been reviewed and asked to remove all references to Native Americans in its print and internet media."
So, you removed the references in "print and online media"–but are you still having "Indian attackers" chase the runners? Why not say it, if that's the case? "Altered accordingly" is still pretty vague…
Update: they clarified the language: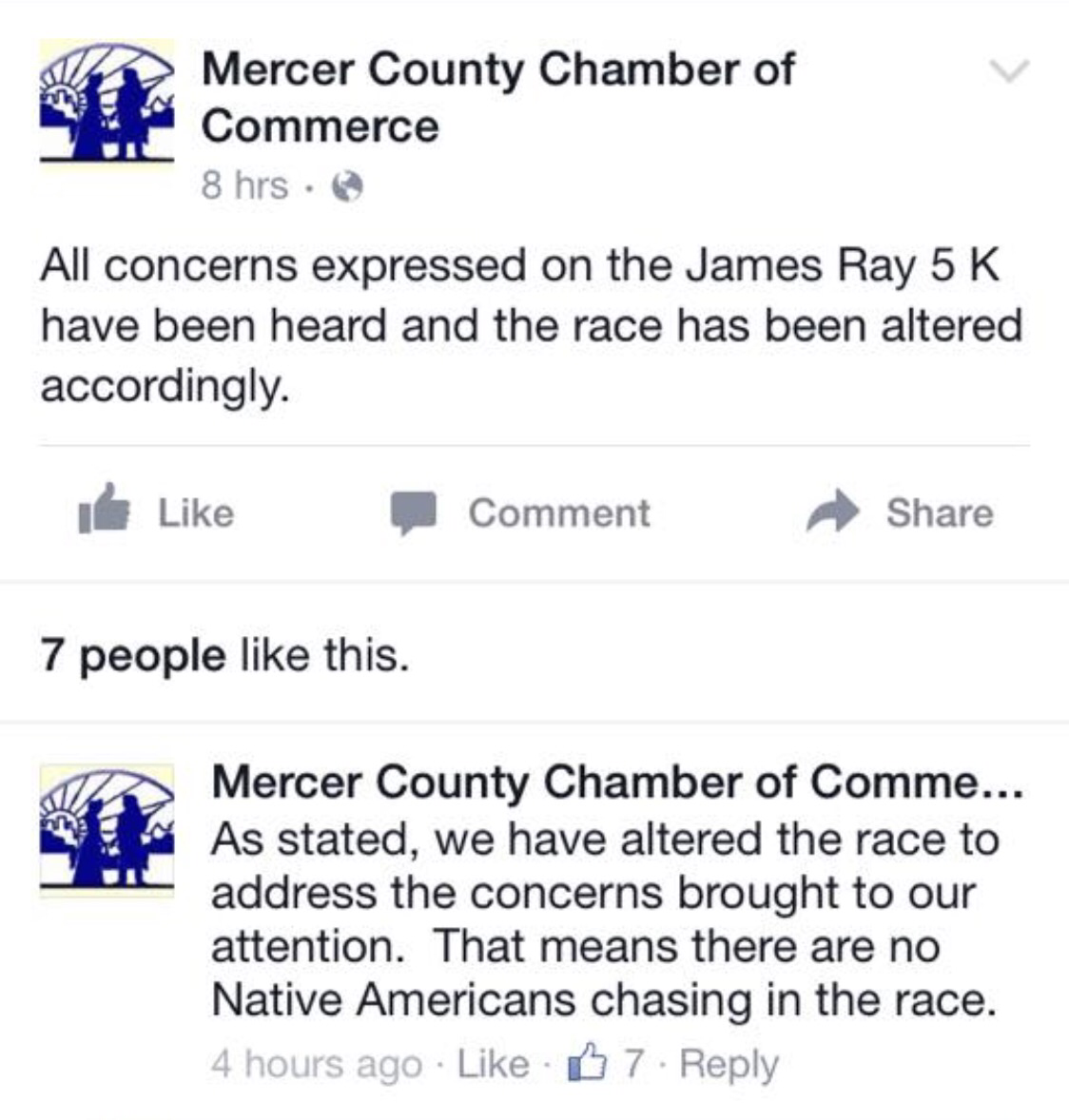 I know the posting has been sporadic lately. But honestly, if I wanted to post something like this, I could do it every. single. day. Between the overwhelming invisibility and insensitivity towards Native peoples, and the overwhelming police brutality made visible through the #blacklivesmatter movement–I sometimes feel like I live in an alternate universe. How, possibly, could there still be people who believe these actions are "not a big deal" or that racism is "over"?
I just think about the table of white folks planning for the James Ray 5k. Who see no problem with naming a 5k after an Indian killer, see no problem with encouraging folks to don redface and "attack" runners, and see this all as a "celebration" of the good ol' days. But in many ways for them, I guess it is a true celebration–of the reigning power of white supremacy. Where they don't have to be accountable to anyone but themselves, where the outrage from Native peoples and supporters will be seen as "ruining the fun," rather than a moment to truly reflect on what it is they are "celebrating" with "Pioneer Days," or whose voices are missing from that celebration.
In closing, I'll say this: if I were closer to Kentucky, you sure as heck would see those runners getting attacked by an Indian at the finish line.*
*(Attacked with words and protest signs and testimonials, who do you think I am?…please don't send the police to my house)
NOTE: James Ray the "Indian Spy and hunter" is not to be confused with James Arthur Ray, fellow white guy who killed three people in a "sweat lodge" in Arizona. So basically, don't name your kid James Ray (apologies if you named your kid James Ray already).