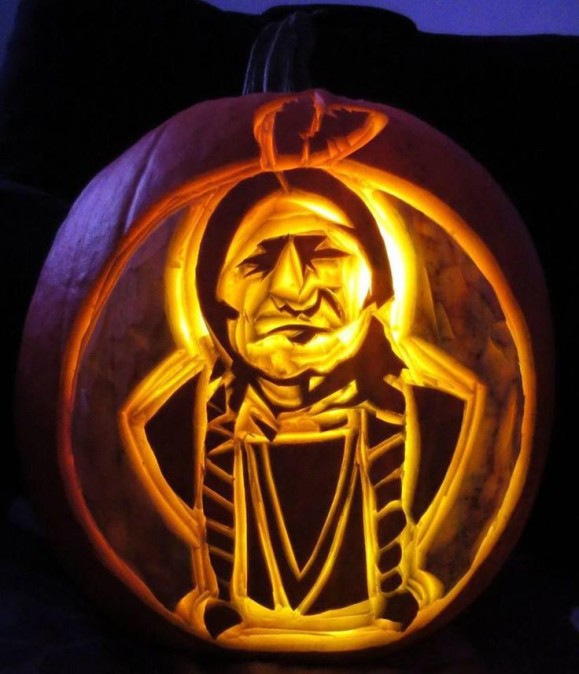 It's Sunday, November 1, and I'm scrolling through my various social media feeds, looking at the adorable, creative, fun, and smart costumes of all of my friends (and their babies) from Halloween last night. I'm heartened and happy by the series of texts I received, and the tweets and status updates I was tagged in, talking about confronting cultural appropriation in costumes. But I also am noticing a troubling trend, one that I have always noticed, but seems more prevalent this year: there are far too many people using their Native ancestry as a defense for their Pocahottie or Indian warrior costume. So I decided we need to have a conversation about the complexities of this, and the reasons why this is not ok. 
I want to start with a story. I've talked many times about how I grew up in very suburban white southern California, and Native peoples and my own Native community were completely absent from my schooling experiences. We did the dreaded Thanksgiving Pilgrims-and-Indians activities every year, complete with construction paper headdresses and brown bag vests. In second grade, I have a distinct memory of our Thanksgiving pageant, because I was allowed to wear my mom's "Indian" dress from when she was in a Thanksgiving pageant in her southern California elementary school. It was a brown fabric dress, complete with fringe, red fabric trim, and beaded accents. To add to all of it, it was handmade by my Cherokee grandma. I remember being so excited, because to me it was a "real Indian" dress, and it was so much better than my classmates' paper outfits. I ran around proudly all day.
Adult Adrienne can think through all the layers of complication that went into that moment–the government policies and laws meant to erase my grandmother's Native identity, and the internalization of white supremacy and ideals of assimilation and an "American" identity–but young Adrienne would have easily proclaimed that my outfit was ok because I was Indian.
I tell this story because I want to offer my empathy and understanding to those who have grown up away from their communities and are unsure of how to connect and honor their heritage. I've moved past feeling shame over that experience, because I know it would never happen now, and my future fictional children will never be put in a similar conundrum (oh how elementary schools will tremble at the wrath of Dr. Native Approps). I can think of many situations where it might feel necessary to take on the stereotypical Indian role–A group costume of the Village People? Better be the Indian, so someone else isn't. Disney Princesses? Pocahontas, same thing. There are schools with Indian mascots where the mascot is actually played by the lone Native student at the school, and I bet the internal rationale is the same. Better me than someone else. At least I'm actually Native. I'm Native so it's ok. I want people to see me and my heritage. At least I'm not invisible.
But it's not ok. And the benefit of growing older is that you can grow in your thinking. Mistakes of youth shouldn't haunt you forever. It's ok to learn and do better.
There are two camps of folks who use the "But I'm Native!" defense for their costume choices. Those who genuinely think their costume is "honoring" their heritage, and those who only use a distant ancestor as an excuse for their racism. The later category seems to be the more common, and I see Cherokee great-grandma's popping up all over the internet*. A Native friend chronicled his encounters with "Indians" last night on his FB, and this interaction stood out to me:
This white dude was dressed as an Indian. I told him it was fucked up. He said I was the third person that told him that. He came up to me 20 minutes later to tell me his grandmother who was 100% Choctaw & wouldn't be offended cause she knew his heart. Dude. I'm not your grandmother.
Then this one kind of broke my heart. I'm not going to link to the actual post on FB or put the picture, though it is public, but I want to share her words:
As some of you know about me I am native. Metis to be exact. This is something I am very proud of. Yet last night I have never been made to feel so ashamed of who I was or what had any control over being.

I was working and wore my Indian Chief costume (which includes a beautiful big headdress as I have in the picture) just as I did the year before at my other place of employment. In no time, I hear consistent comments of "ignorant" "disrespectful" "you're disgusting" "rude bitch" and trust me there were far worse terms I can see people mouth as they hate stare at me from all over the room. Some customers had the nerve to come up to my side bar to give me a "piece of their mind" to only interrogate me immensely when I announced I am native myself. "What tribe are you from? Where's your card?" Where the main ones but many more questions were to follow.

Now I understand that this costume of mine is touchy subject considering everything going on lately but this was ridiculous. I don't see anyone ridiculing any of the Caitlin/Bruce Jenner costume or the countless abortion costumes or God know what other boundary-pushing outfits we've ALL seen over the years.

So here's to the people (surprisingly mostly women) who shamed me:
I hope you're proud you left me in tears. You made me feel like I should be ashamed to be native which I have NEVER felt once in my whole life. Your negativity IS the reason why we are so oppressed and have to fight tooth and nail for all of these related occurrences you JUST USED as your reason to ridicule me. And as a human being where do you get off treating anyone as so?

Don't you remember growing up knowing Halloween to fun and looking forward to to wear something that you're hero wore? Because I do. I was able to wear that costume because I am proud to be Metis. End of fucking story.

Who are you to take that from anyone?
This posting hurts my heart not because the young woman was subject to harsh questioning of her heritage, but that colonization at times is so deep and so complete that a proud Metis woman has been taught through hollywood, the media, textbooks, and a multitude of other messages that true Native heritage is displayed through a warbonnet and skimpy dress. I understand the desire to identify with the only images of Native peoples that we see in mainstream society, because when you're the only one, it can seem like that is the only way to get people to recognize and see you as Native.
But to these two Halloween revelers and the thousands more, let's talk.
As a Native person, or a person with Native ancestry, you are not somehow excused from criticism for a racist, stereotypical costume. The costume has no connection or relationship to actual Native regalia, and pieces like the headdress actually have deep meaning that you are mocking and erasing by donning them on a night made for make-believe. You are reifying stereotypes, collapsing hundreds of tribes into a set of characteristics that don't represent the vast, vast diversity of Indian Country. Your tribe has it's own distinct culture, regalia, and cultural practices, and chances are they look nothing like the mess you're wearing for a party.
Halloween is also the exact worst time to honor your heritage. Halloween is a time for people to dress up as characters, as fantasy creatures, and play pretend. Your culture is not pretend. It is real, and vibrant, and deserves respect–not for you to stand in faux-regalia with a red cup of halloween punch drunkenly dancing to Monster Mash.
I also support the harsh questioning from Native peoples you may have encountered, and believe their tone, anger, and dismissiveness is completely justified. When we angrily demand to know your nation and your connection to your community, it's because we are asking ourselves, How could this have happened?? Who are you accountable to?? 
The anger of Native people should be a signal to you. If you are a Native person, this is the community you are part of, and the relationships that you held are accountable to. If they are telling you that your actions are harmful, it would behoove you to listen.
So while I offer you my empathetic understanding that it is truly difficult to be a Native person growing up without close ties or cultural groundings, I'm telling you now that it's time to listen and learn, and to grow. Reflect on your choices, own up to your mistakes, swallow your shame and embarrassment, apologize, and move forward. If you are going to claim your heritage, do research. Find out what nation you are actually from (chances are, it's not actually Cherokee), what your regalia actually looks like, and when the appropriate times and spaces are to wear it. Be humble, listen, and take small steps. Heritage is not a get-out-of-jail-free card. Native identity is responsibility, pride, and accountability, and Native cultures are beautiful, complex, and again, deserve respect–which doesn't and can't come from a costume shop headdress and striped warpaint.
I hope you'll listen, not be afraid to admit you were wrong, and next time will do better.
For those of you who still need the breakdowns of why dressing as an Indian is bad: "Step Away from the "Indian" Costume!"  (8+ posts covering every angle of costume choices from the archives of the blog)
Related:
"I regret my Naughty Native Halloween Costume" By Elissa Washuta (Salon)
(Awesome Sitting Bull Pumpkin by Rebecca McLeod, via Last Real Indians. I've decided we don't need to see anymore Pocahottie Costumes–you all know what we're talking about here.)
* A few folks are frustrated with my inclusion of this. I clarified in the comments, but this is to reference the folks who pull out a ancestor, and more often than not, it's a Cherokee great-grandma, to excuse their racism or as a convenient way to dismiss or win an argument. As a mixed person from a tribe that doesn't use blood fractions for citizenship, I don't believe in blood quantum as a marker for identity. You can have a Cherokee great-grandma and still be Cherokee. I hope that is clear from my body of writing and work on here. As a Cherokee woman, this is one of my pet peeves. It's often used to dismiss my identity–"oh I'm Cherokee too," or as a stand-in for folks who think all Natives=Cherokee. Identity is complicated, and I hope to continue to illuminate some of those complications.