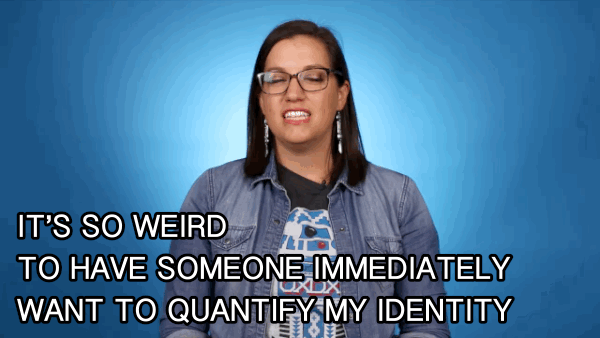 (That's me! I'm a gif! I've made it!)
You might have noticed lately that Buzzfeed has been putting out a lot more race and social justice themed content, and even has included a series of videos featuring Native folks: "Native Americans Try on Indian Costumes," "Native Americans react to Indian mascots," "If Native Americans said the things white people say," and a few others. They're largely the result of some very hard work by Chris Lam, one of the staffers at Buzzfeed Video, in collaboration with local Los Angeles-based Native folks (who you see featured in the videos). Chris is a great example of allyship–prior to working on these videos he had little experience with Native communities, and has really taken a role of learner in the process, defaulting to the Native voices and keeps challenging himself to learn more and push Buzzfeed to feature more Native pieces. I love it.
So when I was home in Southern California for winter break, I headed over to the Buzzfeed studios in LA to meet up with Chris and some of the Native team for a brainstorming session and to film a couple of videos, both of which have now been posted: "9 Questions Native Americans Have for White People" and "I'm Native but I'm Not…". Here's 9 Questions:
"9 Questions" has gotten over 400k views on youtube, and 1.2 million on Facebook, so it's getting a fair amount of attention–which is awesome. As I've said over and over, Native peoples are so incredibly invisible, that for many of those people, this is probably the first time they're seeing contemporary Native people (who don't necessarily look like their deep seated stereotypes) speak to them directly. That's huge.
But, of course, this is the internet, and this is a conversation about race and identity, so naturally the comments are out of control. In perusing the thousands and thousands of them, it's easy to see the responses are incredibly stereotypical for this type of thing, nothing new or groundbreaking. Which is both good and bad. More on that in a minute.
The responses, by my quick visual coding, fall into these categories (a few screenshots included):
[feel free to peruse at your leisure the
Buzzfeed post
,
Facebook post
, and the
youtube comments
…or don't, because we all know internet comments are trash.]
"OMG THIS IS SO RACIST TO WHITE PEOPLE!"

"NOT ALL WHITE PEOPLE!"

"NATIVE AMERICANS ARE SO SENSITIVE STOP WHINING!"
"WHAT IF WE HAD WHITE PEOPLE ASK NATIVE AMERICANS QUESTIONS?!"
"LET ME ANSWER ALL OF THESE QUESTIONS AS A WHITE PERSON SO YOU SEE I'M NOT RACIST!"
"OTHER RACES DO THESE THINGS TOO!"
"I AGREE WITH YOU BUT YOUR TONE IS TOO MEAN!"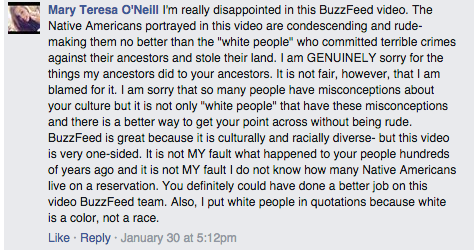 "I'M PART INDIAN AND I DON'T CARE!"
"I (MY FAMILY) WASN'T EVEN HERE WHEN ALL THAT HAPPENED!"
and finally:
"ANOTHER RACE VIDEO, BUZZFEED?!"
Which brings us to "I'm Native but I'm Not…"
The comment chains on that one are much more from Natives agreeing, adding, and claiming that we are not "Native Natives" or "Real Indians," but as we know, that's par for the course. For both videos we shot a ton of footage, but they're out of necessity edited down into quick 1.5-3 minute clips. So, yes, we know there are many more questions and stereotypes that aren't represented.
So as far as analysis, I don't really know what to say. The comments are so stereotypical and ridiculous it's almost comical, but when you see the sheer volume and the sheer vitrol of many of them, it becomes hard to comprehend. I saw the videos shared a bunch of times by my Native friends and colleagues, and the reaction was largely positive, and what I always think about when I receive hate mail, we got to them. Somewhere deep within themselves, these commenters were unsettled by something in one of the videos. Whether it was a memory of the one time they asked a Native person one of those questions, or the realization that they've literally never met a Native person, or stirrings of guilt realizing that, yes, the land they occupy is Indigenous land–these settlers are angry because they don't know how to deal with their privilege, power, and guilt.
I think often about the idea of "white fragility," a term coined by Robin DiAngelo, to describe the way that white folks often crumble during discussions of race and racial inequality. "A state in which even a minimum amount of racial stress becomes intolerable, triggering a range of defensive moves. These moves include outward display of emotions such as anger, fear and guilt, and behaviors such as argumentation, silence and leaving the stress-inducing situation." I wish I could just paste the entire article here (you can read it in full here, or read a Q&A with DiAngelo here).
The rhetorical moves in these comment chains are classic moves of white fragility: deflection, tone policing, claims of racism being multi-directional (ha), disassociation from whiteness as a collective identity, etc. DiAngelo points out that white folks are raised to believe that racism is an individual act, not a structure, and racists are bad people. Therefore, any hint of an accusation of racism causes a crisis of "omg I'm not a bad person!", and challenges our moral beliefs of good/bad.
So how do we fix it? Good question. I believe we have to keep unsettling, keep questioning, and keep starting conversations. Many of the commenters accuse these videos of doing more harm than good, but I don't think that's the case at all. For Native millennials who read buzzfeed religiously, they got to see themselves represented for a few minutes. For everyone else, they got to see faces of real Native people (Urban Native people, mixed Native people, LA Native people!), and perhaps start the process of realizing the depth of their ignorance on Native issues. Is the format perfect? of course not. But little in the world of anti-racist work is. It's messy, complicated, imperfect, constantly evolving and constantly debated and contested. And that's why it's so needed.
Also, on a only tangentially related and much more positive representations front, I realized I never talked about being on Another Round, the best podcast in the history of podcasts (not because I was on it, just because it is), and since it's also a Buzzfeed production, why not put a plug in now?
I was (and am) so honored to be on the show, it was one of my favorite podcasts prior to getting the invite (I actually audibly squealed when I got the email from Eleanor the producer), and the space that Heben and Tracy create each week with Another Round is incredible. It's a combination of cry-laugh-out-loud-in-public-spaces moments with deep and thoughtful interview questions, and I look forward to it popping up in my podcast app every time. When I was there with them, it was so amazing to hear my words from social media reflected back to me, and to have a chance to explore and explain and be affirmed, and to feel that they had really done their research and understood my cause and mission and wanted to bring others into that place as well. For those of us who write about race and inequality on the internet, it can sometimes feel like throwing words into a swirling windstorm, so to feel affirmed and listened to was so powerful for me. It made me feel like I am actually impacting things, and I'm happy their audience was exposed to Native issues as well. They've skyrocketed with their guest famousness, two episodes after me was Hillary Clinton (!), and they continue to have amazing folks on that teach me new things all the time.
These experiences with Buzzfeed show me the power of new media to create dialogue, and that when Native peoples are invited into spaces and into collaborative relationships, great things can happen. I hope through these examples that when other media outlets are thinking through their race-themed content, or how to write and report about issues of "diversity," they can look to Chris, Heben, and Tracy to see the importance of including Native voice. Our perspectives are important, and begin to push the racism conversations into conversations about racism and colonialism. Because we truly can't have one without the other.