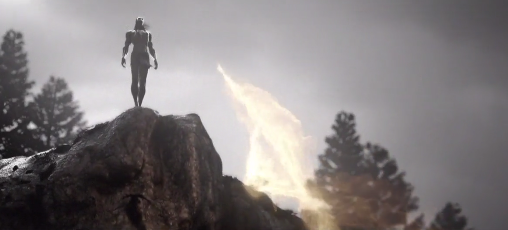 Yesterday I wrote about the trailer for JK Rowling's new multi-part background pieces on Pottermore, entitled "Magic in North America." You should read the post here if you need context. Even before that, back in June, I wrote about my concerns with the bringing of the "magic universe" to the States. You can read that here.
So this morning at 9am, part one of this mess was released. It's really short, I don't know what I was expecting, but definitely go over and read it in full.
There are a number of things that stand out and deeply concern me, but the response to my critiques on my twitter timeline is even worse. I'll talk about that after I walk you through the text. Because, like with everything I critique, it's not just the mascot/image/text/movie/fashion itself, it's the response, how it's used, and the impact. This has the perfect storm of all of those categories. I really could write a dissertation about this, but I have a million papers to grade and work to do, so a quick rundown:
Part 1 of MinNA, The 14th to 17th century, starts with this:
Though European explorers called it 'the New World' when they first reached the continent, wizards had known about America long before Muggles (Note: while every nationality has its own term for 'Muggle,' the American community uses the slang term No-Maj, short for 'No Magic'). Various modes of magical travel – brooms and Apparition among them – not to mention visions and premonitions, meant that even far-flung wizarding communities were in contact with each other from the Middle Ages onwards.
So first off, we're centering Europeans, calling brutal colonizers benign "explorers" (yes, it's written for children, but I don't think anyone would argue the HP canon is absent of intense violence. I'm just fascinated to see how Rowling will address the brutality and complexity of colonization in the next stage). Also, "America" didn't exist during this timeframe.
The Native American magical community and those of Europe and Africa had known about each other long before the immigration of European No-Majs in the seventeenth century. They were already aware of the many similarities between their communities. Certain families were clearly 'magical', and magic also appeared unexpectedly in families where hitherto there had been no known witch or wizard. The overall ratio of wizards to non-wizards seemed consistent across populations, as did the attitudes of No-Majs, wherever they were born. In the Native American community, some witches and wizards were accepted and even lauded within their tribes, gaining reputations for healing as medicine men, or outstanding hunters. However, others were stigmatised for their beliefs, often on the basis that they were possessed by malevolent spirits.
"The Native American community." Oh man that loaded "the." One of the largest fights in the world of representations is to recognize Native peoples and communities and cultures are diverse, complex, and vastly different from one another. There is no such thing as one "Native American" anything. Even in a fictional wizarding world.
The legend of the Native American 'skin walker' – an evil witch or wizard that can transform into an animal at will – has its basis in fact. A legend grew up around the Native American Animagi, that they had sacrificed close family members to gain their powers of transformation. In fact, the majority of Animagi assumed animal forms to escape persecution or to hunt for the tribe. Such derogatory rumours often originated with No-Maj medicine men, who were sometimes faking magical powers themselves, and fearful of exposure.
So, this is where I'm going to perform what Audra Simpson calls an "ethnographic refusal," "a calculus ethnography of what you need to know and what I refuse to write in." In her work with her own community, she asks herself the questions: "what am I revealing here and why? Where will this get us? Who benefits from this and why?"
I had a long phone call with one of my friends/mentors today, who is Navajo, asking her about the concepts Rowling is drawing upon here, and discussing how to best talk about this in a culturally appropriate way that can help you (the reader, and maybe Rowling) understand the depths to the harm this causes, while not crossing boundaries and taboos of culture. What did I decide? That you don't need to know. It's not for you to know. I am performing a refusal.
What you do need to know is that the belief of these things (beings?) has a deep and powerful place in Navajo understandings of the world. It is connected to many other concepts and many other ceremonial understandings and lifeways. It is not just a scary story, or something to tell kids to get them to behave, it's much deeper than that. My own community also has shape-shifters, but I'm not delving into that either.
What happens when Rowling pulls this in, is we as Native people are now opened up to a barrage of questions about these beliefs and traditions (take a look at my twitter mentions if you don't believe me)–but these are not things that need or should be discussed by outsiders. At all. I'm sorry if that seems "unfair," but that's how our cultures survive.
The other piece here is that Rowling is completely re-writing these traditions. Traditions that come from a particular context, place, understanding, and truth. These things are not "misunderstood wizards". Not by any stretch of the imagination.
Here is how Rowling responded to questions online about the term: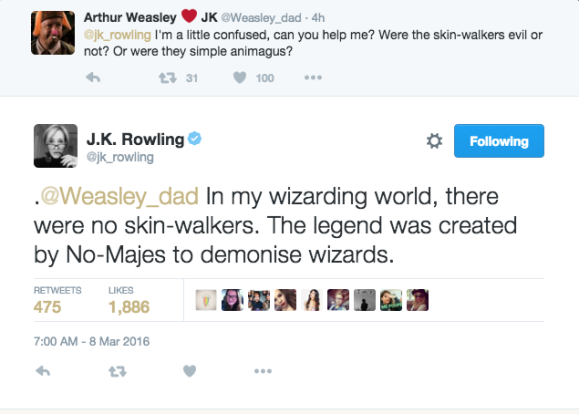 and here was my response:
You can't just claim and take a living tradition of a marginalized people. That's straight up colonialism/appropriation @jk_rowling.

— Dr. Adrienne Keene (@NativeApprops) March 8, 2016
This is clearly not legwork @jk_rowling did with this writing. Native communities use reciprocity, respect, and relationships as benchmarks.

— Dr. Adrienne Keene (@NativeApprops) March 8, 2016
I have more to say, but I'll end with this. These are things you don't mess with. So good luck with that.
The Native American wizarding community was particularly gifted in animal and plant magic, its potions in particular being of a sophistication beyond much that was known in Europe. The most glaring difference between magic practised by Native Americans and the wizards of Europe was the absence of a wand.
The magic wand originated in Europe. Wands channel magic so as to make its effects both more precise and more powerful, although it is generally held to be a mark of the very greatest witches and wizards that they have also been able to produce wandless magic of a very high quality. As the Native American Animagi and potion-makers demonstrated, wandless magic can attain great complexity, but Charms and Transfiguration are very difficult without one.
This whole wandless magic thing is bugging me. So Rowling has said multiple times that it takes a lot more skill to perform magic without a wand (Dumbledore does it at several points in the books), but points out that wands are what basically refines magic. Wands are a European invention, so basically she's demonstrating Eurocentric superiority here–the introduction of European "technology" helps bring the Native wizards to a new level. AKA colonial narrative 101.
The response online today has been awful. My twitter mentions have been exploding non-stop all day, with the typical accusations of my oversensitivity and asking if I understand that Harry Potter is fictional, and more directed hate telling me my doctorate is being misused and I'm an idiot. In addition are the crew who "would love to know the real history" of these concepts (again, not for you to know), or are so grateful that JK Rowling is introducing them to these ideas for the first time. This is not the way to learn about or be introduced to contemporary and living Native cultures. Not at all.
Also worthy of note is that Rowling is known for responding directly to fan questions on twitter, and overall being accessible to her fan base. Despite thousands of tweets directed at her about these concerns, she has not addressed it at all. The silence is noted, and it's deafening.
So this is the first day of the writings, I truly shudder thinking about the glossy way that first contact and subsequent genocide is going to be addressed.
Until tomorrow?
Read my original post here: "Dear JK Rowling, I'm concerned about the American Wizarding School"
and the one from yesterday: "Magic in North America": The Harry Potter franchise veers too close to home
and the writing I'm responding to: Pottermore "Fourteenth- Seventeenth Century"