SPOILERS OBVIOUSLY
Sunday on Game of Thrones we finally got the Dany dragon battle we've been waiting for, and it was glorious. I do have some…questions on the battle strategy (which @miamckenzie breaks down as well here and here), but overall it was a rousing scene full of fire and tension and badassery and…well, a lot of references that made me as a Native person cringe.
There are certain tropes that abound when we talk about Native portrayals in film. Inescapable aesthetics and scenes that have been so deeply solidified in folks' minds thanks to Hollywood Westerns. I just finished re-watching the documentary Reel Injun with my students this summer, so these ideas are fresh in my mind. Reel Injun does an incredible job breaking down where these stereotypes and tropes come from, how they grew in conjunction with the invention of film and political movements of each era, and how they still deeply affect Native film portrayals today. The film is available on Netflix, so I recommend watching if you've got an hour. It's entertaining and funny too.
But one of the tropes used over and over again in Hollywood westerns is the "Indian ambush." Innocent white folks, either camped with their covered wagons or traveling through the canyons of the West, attacked by brutal savages.
The Natives coming over the edge of a hill, galloping full speed on horseback, war whooping, weapons in the air, is a thing. There are probably thousands of clips I could pull.
Then there's the Battle of Little Bighorn/Custer's Last stand imagery, with thousands of Natives overwhelming a small white military presence:
Again, hundreds more I could pull upon. But watch each of these and see what they have in common.
Now, watch the clip from the final battle scene in Game of Thrones this week (I don't know how long this clip will be up, so if it's gone search "Game of Thrones Season 7 Episode 4 Final Battle"). The Dothraki's arrive at about 3 minutes in:
Yeah. There's a lot going on there. I took a few screenshots.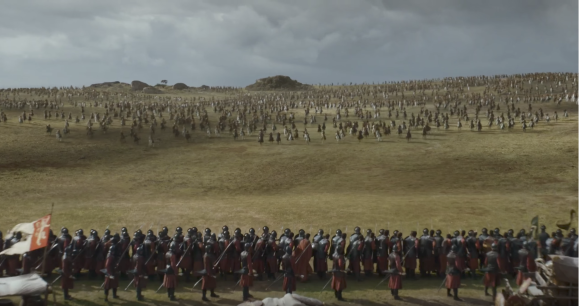 So the scene begins with the "omg do you hear that??" of distant hoofbeats and everyone scrambling into battle formation, and the classic "Warriors pouring over the hill in an unending wave" moment as the Dothraki surge onto the scene. Which, pause, several people on twitter pointed out that this could be a reference to Mongolian horse culture and warriors, which I'll allow because I remember this scene from Mulan (I'm being cheeky here, but also demonstrating the trope is not just for Natives, but anyone deemed "savage" and "other"), and because there are other clear references in Dothraki culture to these communities:
But there's a lot that's more Native/wild west referencing to me. We've got intense war whooping, bows and arrows (side note: these actors are STANDING ON HORSES SHOOTING ARROWS):
and even a long shot of a flaming wagon and panicked horses which was so hollywood western to me:
and then there was this:
I'm just saying: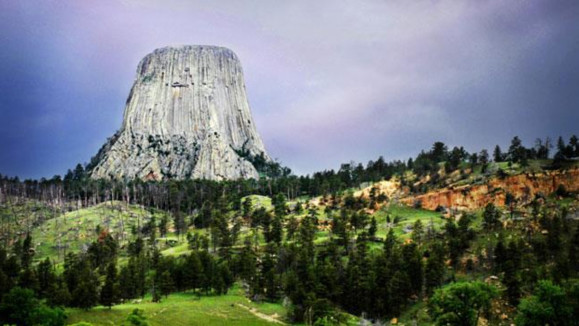 (That's "Devils Tower"/Bear Butte in Wyoming, sacred site to many communities, nestled in the "West"/Indian Country)
<insert shrugging emoji here>
Clearly, things are not just Cowboys-and-Indians here, since we're supposed to be rooting for the Dothraki. But I've always been bothered with the way the Dothraki have been written in the show. So why does this matter? It shows that Native peoples are the first jump to when looking to portray a "savage" other, and that despite this being a fantasy world where dragons exist and magic is real–the writers don't know how to imagine the Dothraki outside of already well worn and well established tropes. These hollywood Indian stereotypes have haunted Native peoples for generations, making the majority of the world believe that all 567+ tribes wear headdresses, ride horses, and shoot arrows in the desert of the west. They're damaging, but they hold deep nostalgia for many many non-Native people. So many folks felt very strongly about that battle scene, and it's probably because it drew upon that nostalgia and conjured up those images of the wild west. Also, dragons, let's be real. But it did also bother me that the Dothraki were disposable in the scene–why have them rush in at all when literally all Dany had to do was blast the Lanisters a few times? Their deaths were kind of pointless, from a logistical standpoint. From a cinematic one? Wild indians make good TV.
The point of this post is to mostly demonstrate the comparisons that I saw, but there's also another topical piece that one of my twitter mentions pointed out:
Every time something like this happens on GoT I'm like, yeah, definitely #NoConfederate from these guys

— Norah (@norahhhh8_8) August 7, 2017
These Dothraki portrayals matter because the creators of this show are trying to make a new show that centers complexities of race, called Confederate. The show is supposed to imagine the South didn't lose the civil war and slavery is still a modern thing. There's been a lot of great writing on this that I won't rehash, but I recommend Ta-Nehisi Coates' piece for the Atlantic, and following #NoConfederate on Twitter. The bottom line is this: how would we possibly expect them to produce and write a nuanced, complex, thoughtful portrayal of people of color when the only way they know how to write "savage" peoples on Game of Thrones is to fall back on Hollywood Western tropes?
Today I read this incredible short story by Rebecca Roanhorse. It's speculative fiction rooted in Native realities of cultural appropriation, identity, hollywood stereotypes, consumer and tourist consumption and more. It's disturbing and beautifully written and you all should read it: "Welcome to your Authentic Indian Experience" (Apex Magazine has a whole issue on Native topics that the story is in)
Holy ish. This is so good and so disturbing and so topical and THIS IS WHY I WANT TO READ NATIVE WRITERS. https://t.co/OMUuDsvkRi

— Dr. Adrienne Keene (@NativeApprops) August 8, 2017
But in thinking about that story, I think about how powerful it is to have our own voices represent us. Small details in language use or descriptions of swinging beaded earrings that only a Native insider knows mean the story becomes real and representative, even when set in an alternate reality. Basically, hire Native people. Hire people of color. Break free from the racist tropes of the past and stretch the boundaries of fantasy. I promise we can handle it, and that no one will miss the Wild Indian-Dothrakis of the Plains.
UDATE: I watched this "making of" featurette, and the production team definitely acknowledges the western influence. Doesn't change the critique, other than to know they did it consciously. At 5:24, "Its kinda almost like cowboys and Indians with dragons all rolled up into one." and at 8:30, "George RR Martin has often said that the Dothraki are kind of an amalgam of American Indian tribes and the Mongols…phenomenal horsemen."