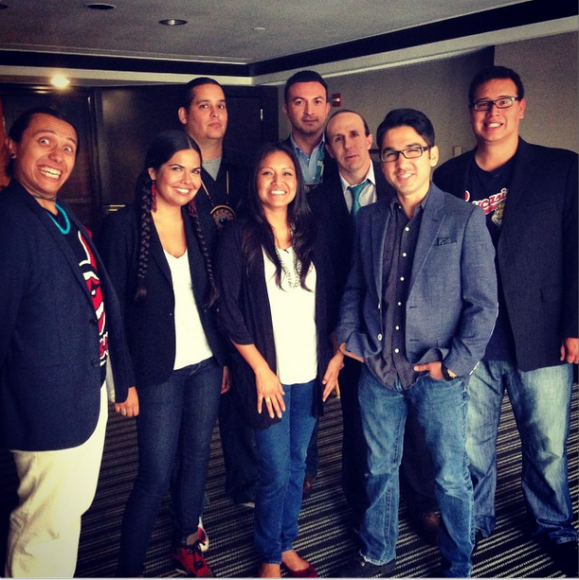 A couple weeks ago, a stellar, amazing group of my Native activist friends, colleagues, internet-friends, and people-I-wish-were-my-friends gathered in DC for a taping of the Daily Show (see photo above, via Gregg Deal). The episode hasn't aired yet (I hear it might be tomorrow??), but already it's causing a bit of a stir on the internets. The Washington Post published an article on Friday entitled, "The Daily Show springs tense showdown with Native Americans on Redskins fans". It has since been picked up by Time, Gawker, Yahoo Sports, Uproxx and many, many other sites, though all seem to be relying on the Washington Post quotations and reporting.
You guys, I have some problems with the reporting of this. Surprised? Of course not.
So here's the quick version: The Daily Show recruited fans of the Washington Racial Slurs via twitter to participate in a panel about the name change. They chose four of them, who sat in a hotel conference room with Jason Jones of the Daily Show for awhile, as he asked them a bunch of questions–even pulling out a dictionary to read the definition of "that word" and the like. The show also had a panel of the Native activists, asking them questions about why the name is racist, offensive, and needs to be changed. Then, the show brought the two panels together, and things, apparently, got "heated."
Cue white lady Racial Slurs fan crying, getting up during the taping, taking off her mic, asking to rip up her consent form, going home and CALLING THE COPS the next day because she felt "threatened."
Meanwhile, the next day, the bros of the 1491s went to the tailgate at FedEx field, where they were subject to abuse from fans yelling and confronting them.
So, you're the Washington Post, how do you frame this story? By attempting to make us feel bad for the poor Racial Slurs fans who were "ambushed" and "threatened," of course.
Let's start with the headline: "The Daily Show springs tense showdown with Native Americans on Redskins fans" Not, "The Daily Show arranges showdown between Native Americans and Redsk*ns fans," or any other more neutral framing. This immediately sets up the fans as victims to the Natives, as the innocent bystanders.
I really want to break down the whole article line-by-line, but it's like 2,000 words…you know what? Screw it. I'm annotating the whole thing. Ready?Read More