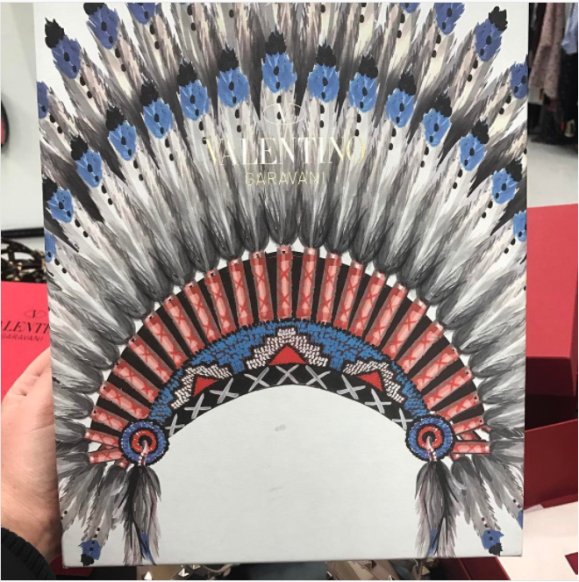 A couple days ago I went to a TJ Maxx in Massachusetts, and my sister and I were oo-ing and ahh-ing over some  gorgeous studded Valentino heels. I grabbed the box to look at the price tag (way out of my budget), but then flipped it over, and saw this.
That's a headdress. A sacred headdress. Again.
I literally have no more words to talk about the ways these warbonnets have been commodified, separated from the cultures from which they come, and appropriated in advertising, costuming, whatever. I, literally, have been writing about this phenomenon for seven years. SEVEN YEARS! In internet years that's truly forever.
So to recap, in 2011, I wrote a piece called "But why can't I wear a hipster headdress." I wrote it out of frustration with the (then) burgeoning trend of non-Native people wearing headdresses at music festivals. Now, all these years later I should probably revisit it, but the arguments still (pretty much) stand. After that, I wrote well over 15 different posts about various celebrities and designers wearing headdresses. Drew Barrymore, Amy Poehler, Tom Ford, Khloe Kardashian, Karlie Kloss, and on and on. That doesn't include the music festivals, the offensive parties, the advertising campaigns, or the fashion collections. Hundreds of examples. So at this point, I always have a very hard time allowing anyone to use the ignorance defense. Even international brands like Valentino–you should know better…ESPECIALLY in this case.