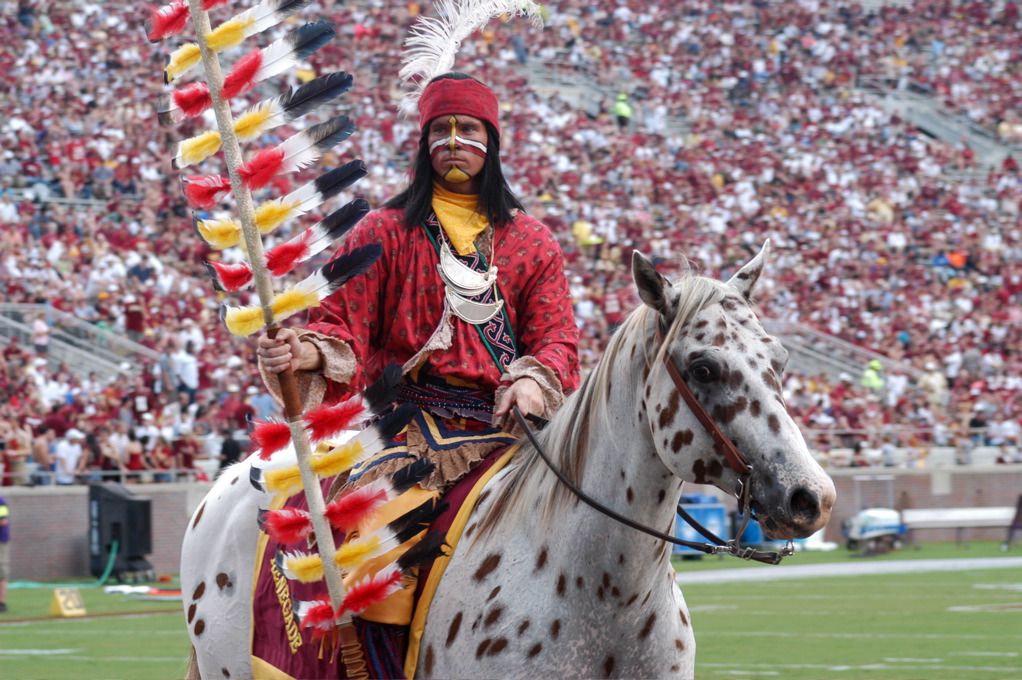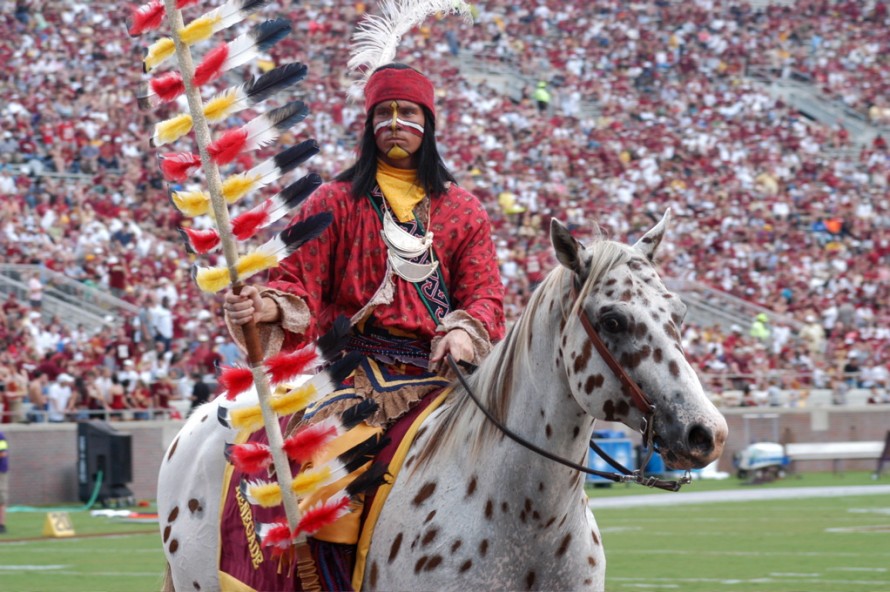 Live and learn. I guess the "quick post" model failed–you should see my inbox. Guys, I know the Seminole Tribe of Florida has worked with FSU and offered their approval of the mascot and associated images. I know quite a bit about the relationship, actually, and I've been learning quite a bit more in the last day or so…thanks to the strongly worded responses from some passionate FSU fans.
Quick background:
Florida State has been the "Seminoles" since 1947, and have had a "relationship" with the Seminole Tribe of Florida for many years, but it was solidified more recently. In 2005, the NCAA passed a resolution, calling Native American Mascots "hostile and abusive," and prohibiting schools with these mascots from hosting post-season events. The Seminole Tribe of Florida then officially gave their permission to use Osceola as the mascot, letting FSU get a waiver from the NCAA rule.
Disclaimer, and a big one–I am not Seminole, and I don't want to speak for the tribe. I am offering my interpretation and perspective, but it's just mine. I am going to be up front and say that I don't agree with the choice to give the university permission to mock Native culture (see the billboard and video I posted earlier), and I don't find a "stoic" dude in a wig and redface throwing a flaming spear "honoring" (see photo above), and I definitely don't think that the "war chant" is respectful in any way. In fact I find it quite "hostile and abusive."
I do want to put the decision of the tribe into context, however. From what I understand, prior to the formalized relationship with the tribe in the 1970's, the image of the university was not Osceola (who is a real person, in case you didn't know. Though the image is the profile of a white faculty member), but a stereotypical mis-mash named "Sammy Seminole" who was accompanied by "Chief Fullabull," both of whom wore cartoonish and stereotypical outfits and clowned around at games. Trying to be more "sensitive" they changed "Fullabull" to "Chief Wampumstompum." I'm not kidding. Osceola and Renegade (the horse) were introduced in the late 70's.
So, by entering into a relationship with the university, the mascot now represents an actual Seminole figure, and wears (close to) traditional Seminole regalia, made by tribal members. In addition to control and "collaboration" over how the image is used and portrayed, I've heard the tribe gets a cut of the merchandising profits, which I'm sure is no small amount of money. The president of the university also established full scholarships for Seminole students (though only 8 Seminole students have graduated in the history of the school), a Seminole color guard brings in the flag at commencement, and the tribe was recently honored at homecoming. The Seminole of FL are also one of the most successful gaming tribes in the US, and my personal opinion is that keeping the state happy on the FSU front can only be good for relations around gaming contracts.
In summary, while the mascot is far from being respectful in my opinion, at least the tribe is gaining both economic and social benefits from engaging in this relationship. At least, at the games, as the student section is tomahawk chopping and yelling "scalp 'em", they can look down at the field and see a real Seminole every once and awhile to counter the image of Osceola. But is it perfect? Of course not. In a lot of ways it is similar to Derrick Bell's theory of Interest Convergence–the idea that whites will only consent to racial progress when it benefits them directly–but turned around. The tribe is consenting to this, because they benefit directly. The interests of the two parties converge.
But the hard thing about FSU is that it always gives fodder to the mascot defenders. "But the Seminole approve of Florida State!  They don't care!" Hopefully I've made a bit of a case as to why they've consented to have their image used, but I also want to point out that just because one faction of a marginalized group believes one thing, it doesn't mean that everyone feels that way. Can you imagine if we expected all white folks to feel the same about a controversial issue…like gun control, for example? Not gonna happen. I also think that it ties back into the dilemma I've brought up again and again–is it better to be completely invisible as Native people, or be misrepresented? In the case of the Seminole tribe of Florida, they took the step to at least try and gain some control and power over how their people and community are represented.
Coming back to the billboard that I posted last week, here is the (unsolicited) response I received from the university:
Hi Adrienne,

I work in Florida State University's Office of University Communications. We've become aware of your recent blog post about several of Florida State University's recent promotions which include Seminole imagery and symbols — and appreciate your concern.  However, we wanted to take this opportunity to make sure you were aware that the relationship between Florida State and the Seminole Tribe of Florida is one of mutual respect.

In 2005, the tribe passed a resolution supporting the university's use of the Seminole name, logos and images, including Osceola and Renegade. This was recognition of Florida State's continued collaboration with the tribe, including prominent participation by tribal members in many of the university's most meaningful events, and our seeking advice and direction to ensure tribal imagery is authentic.

Simply put, Florida State University is humbled and honored by the privilege of representing a group of people whose courage and spirit we admire and respect. Through the years, our administrators have made it clear the university will not engage in any activity that does not have the approval of the Seminole Tribe of Florida.

We hope this background is helpful. Please feel free to write me back if you have any questions.
The word "authentic" in there gave me pause–are they actually arguing that painting a red and yellow stripe of "warpaint" on a non-Native lady is "authentic"? And the language of the letter just feels weird to me–"a group of people whose courage and spirit we admire and respect"? It just feels like a slippery slope and super gray area between "respect" and romanticization.
If anyone knows more and wants to correct my FSU/Seminole facts, please feel free in the comments!
UPDATE: Check out this awesome resource pulled together by Rob Schmidt of Blue Corn Comics/Newspaper Rock–offers more history, counter-arguments, quotes from news articles and Native scholars, and more:
Why FSU's Seminoles aren't ok
Earlier: New Billboard for Florida State's MBA Program
(Thanks Steph for the FSU background, and Carly for asking a great question about this last night that got me thinking!)