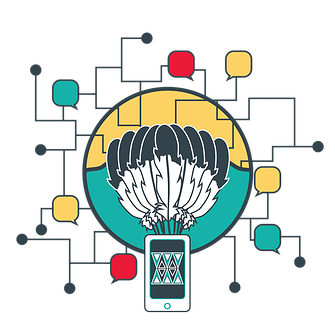 (Awesome logo by Jessica Harjo for the Indigenous New Media Symposium THIS FRIDAY Feb 21st)
When I started Native Appropriations in 2010, I started it as a place to catalogue random images of Native peoples I was seeing in my everyday life. I wanted a place where I was able to express my thoughts about how those images made me feel, and a place that could serve as a repository for the growing examples of "Tribal Fashion" that I was seeing in stores and online. I felt kinda alone and silenced in my East-Coast-Ivy-League-world, so I turned to the internet to find others who were interested in similar issues and would help me learn how to push back on these images and ideas.
Fast forward four years, 283 posts, 4,283 comments, 2.75 million pageviews, 40,000 FB fans, and 7,019 tweets (yikes–maybe I need to tweet less). Now I've been invited to speak at this amazing Indigenous New Media Symposium this week, and I'm getting the chance to reflect and ask–So what does this all mean?
In a perfect world I would have put this question to all of you a lot earlier, but I turned in my dissertation (draft) on Friday(!!!), and part of the draw of social media is the speed with which things move, so hey. Let's talk.
I've been tasked at the symposium to talk about how New Media* and tools such as FB, IG, Twitter, Soundcloud, YouTube, etc have provided new ways to challenge perception and policy–and create tangible change–in the areas of cultural appropriation and cultural ownership (eg all the things we talk about on Native Approps).
I have a basic framework for my presentation, but I'd love to hear your thoughts on all this.
How has (or has it?) the internet changed the way you think about cultural appropriation, cultural ownership, and representations?
How have you seen Native folks been able to harness the power of social media to make change in these areas?
Is any of this worth it? (I'm serious. I think I and a lot of other people who talk about representations get a lot of hate from Natives and non-Natives alike who say these issues "don't matter" or accuse us of only being "reactionary" or "complaining"–what do you think?)
Just some random questions to get you thinking. Feel free to add in whatever random thoughts you have–I'm also talking about this on twitter today, so feel free to tweet me! You are also invited to participate in the conversation during the symposium (it will be live streamed) with the #indnewmedia hashtag, and questions for the Q&A will come from social media too (#indnewmediaQ).
I love that we're at the point that we can be self-reflective and think about the future of Indigenous New Media. The nerd in me is so excited about this conversation that I can't even handle it. I'm also feeling the pressure to be all thought-provoking and have my ish together…which is good!
I'm looking forward to meeting some of you on Friday and Saturday, and I can't thank the incredible organizers of the symposium–Thelma, Cody, and Alex–enough. They've pulled together an amazing event.
So friends, readers, Natives…what does Indigenous New Media mean to you? What does the community around Native Appropriations/cultural appropriation/representations mean to you? What are some examples of where you think this type of activism works? Where doesn't it work?
As always, thanks so much for your support and love–without all of you I'd just be shouting into the dark internet ether, and I don't think that would get anything done, do you?
*Wikipedia (oh what a scholarly source) describes New Media as: "on-demand access to content anytime, anywhere, on any digital device, as well as interactive user feedback, and creative participation. Another aspect of new media is the real-time generation of new, unregulated content."