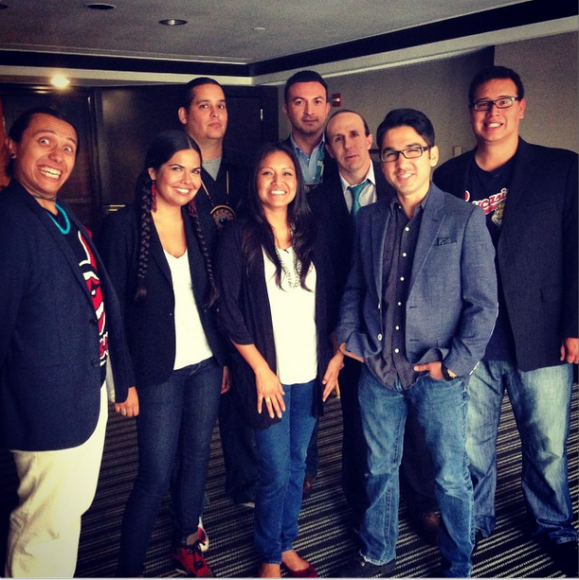 A couple weeks ago, a stellar, amazing group of my Native activist friends, colleagues, internet-friends, and people-I-wish-were-my-friends gathered in DC for a taping of the Daily Show (see photo above, via Gregg Deal). The episode hasn't aired yet (I hear it might be tomorrow??), but already it's causing a bit of a stir on the internets. The Washington Post published an article on Friday entitled, "The Daily Show springs tense showdown with Native Americans on Redskins fans". It has since been picked up by Time, Gawker, Yahoo Sports, Uproxx and many, many other sites, though all seem to be relying on the Washington Post quotations and reporting.
You guys, I have some problems with the reporting of this. Surprised? Of course not.
So here's the quick version: The Daily Show recruited fans of the Washington Racial Slurs via twitter to participate in a panel about the name change. They chose four of them, who sat in a hotel conference room with Jason Jones of the Daily Show for awhile, as he asked them a bunch of questions–even pulling out a dictionary to read the definition of "that word" and the like. The show also had a panel of the Native activists, asking them questions about why the name is racist, offensive, and needs to be changed. Then, the show brought the two panels together, and things, apparently, got "heated."
Cue white lady Racial Slurs fan crying, getting up during the taping, taking off her mic, asking to rip up her consent form, going home and CALLING THE COPS the next day because she felt "threatened."
Meanwhile, the next day, the bros of the 1491s went to the tailgate at FedEx field, where they were subject to abuse from fans yelling and confronting them.
So, you're the Washington Post, how do you frame this story? By attempting to make us feel bad for the poor Racial Slurs fans who were "ambushed" and "threatened," of course.
Let's start with the headline: "The Daily Show springs tense showdown with Native Americans on Redskins fans" Not, "The Daily Show arranges showdown between Native Americans and Redsk*ns fans," or any other more neutral framing. This immediately sets up the fans as victims to the Natives, as the innocent bystanders.
I really want to break down the whole article line-by-line, but it's like 2,000 words…you know what? Screw it. I'm annotating the whole thing. Ready?
The four die-hard Redskins fans thought the opportunity was as golden as the vintage helmets of their favorite football team: "The Daily Show with Jon Stewart" wanted them to appear on the Comedy Central program to defend the team's name, which has been under relentless attack.
First paragraph, fine, whatever. Note that the fans were excited to "defend" the name, meaning they weren't tricked or coerced.
The Redskins Nation citizens eagerly signed up, most of them knowing that they might be mocked in their interview with correspondent Jason Jones. But several hours into the Sept. 13 taping of the yet-to-air episode, the fans, all from Virginia, said they were suddenly confronted by a larger group of Native American activists — all of whom were in on the showdown prearranged by "The Daily Show."
Vomit at the use of "the Redsk*ns Nation citizens." No. *We* as Native peoples use that language to describe our tribal Nations and our tribal citizenship. To use that to refer to the team's fans accompanied by a racial slur is disgusting and inappropriate. So they were "suddenly confronted by a larger group"–again, placing them in the role of victim to the big, scary, Natives.
The encounter at a Dupont Circle hotel was so tense that an Alexandria fan said she left in tears and felt so threatened that she later called the police. She has told "The Daily Show" to leave her out of the segment but doesn't know whether the producers will comply.
Here's the hook for the article–that one of the fan's "left in tears" and "felt so threatened she later called the police." So as the reader, we're already on her side. Nobody wants a nice white lady to cry! I mean, she called the cops! That MUST mean the Natives were soooo mean to her! Shall we go on?
"This goes way beyond mocking. Poking fun is one thing, but that's not what happened,"
Is this a quotation from one of the Native activists about how Racial Slurs fans constantly mock our culture at games? Sorry, no, it's from the really oppressed fan. Won't someone think of the white people? (that was an alternate title to this post, btw)
said Kelli O'Dell, 56, a former teacher who lives in Alexandria and doesn't watch the show regularly. "It was disingenuous. The Native Americans accused me of things that were so wrong. I felt in danger. I didn't consent to that. I am going to be defamed."
Ok, pause. I do feel bad for Kelli, that she was put in a position without her consent where she was forced to defend a position that she deeply feels is right, only to be told over and over again that it is wrong. Welcome to every time that Native people open their mouth about mascot issues. Though, (this is me being genuine now) confronting your own privilege is hard and scary, and it's not easy to have to do it on national TV.
But to say you "felt in danger?" of what? That one of the Native artists, comedians, journalists, educators, or lawyers sitting in front of you was going to physically attack you? Wow. Just, wow. No savage Indian stereotypes here…
(ETA side note: O'Dell is listed as a "former teacher," which gets sympathy votes, but she also is a former employee of the team and an "official fan reporter," just FYI)
Now I'm skipping three paragraphs. Apparently the fans specifically asked if they were going to have to talk to real Natives, and were told "no," so there is potentially some "deception" involved. But really dudes. You voluntarily signed up to be on a political satire comedy show that has been vocal against Native mascots in the past. Need a reminder? This awesome clip about University of Illinois should help. Again, I'm still having a really hard time feeling bad for you.
The Native Americans who confronted the Redskins fans — including Amanda Blackhorse, the lead plaintiff in the case that stripped the Redskins of their trademark protections this year and is being appealed — said in interviews that they marched into the room and accused the fans of backing a racist mascot.
Note the word choices: "Confronted," "stripped," "marched," "accused"–these are purposely aggressive and violent verbs.
"My heart goes out to them because they are people, too," said Tara Houska, an Ojibwe from Couchiching First Nation who lives in the District and works for the grass-roots group Eradicating Offensive Native Mascotry. "But it's a weird position for them to take, because someone is crying over the loss of their offensive mascot when I am right there, standing in front of them. I don't think they're racist. I think their mascot is racist."
Really sounds aggressive and horrible, right? Those mean Natives totally thought they were racists!
The Native Americans endured some abuse, too, when they were taken to FedEx Field on Sunday to interact with Redskins fans who were tailgating before the home opener against the Jacksonville Jaguars. That also got ugly. At several points, according to one of the Native Americans, Redskins fans yelled obscenities at them, and one guy shouted, 'Thanks a lot for letting us use your name, boys!'"
This is the only mention of the ongoing abuse Native peoples receive in fighting the name, and it's almost aside. "Some abuse too"! Meaning that the "confrontation" and the pain the white fans felt is equal to the abuse that Native peoples face. Right.
Skip a few more paragraphs that give the context I gave at the beginning of the post.
The fans found Jones mostly funny. "We kept telling him that we felt the name honored Native Americans," O'Dell said. "And then we just felt like, 'Are we done yet?' "
Another vomit break for the tired "honoring" argument. Clearly, judging by the angry Natives up in your face, we don't find it honoring, dude.
Skip a little more, where Bobby Wilson of the 1491s says that the Native panel knew what was going on, and it didn't seem unfair to him, since we're constantly confronting racism that way. Boo-yah. So then the "surprise":
Jones pulled out some beer and chicken wings, O'Dell remembered, and sat back and watched. Both the fans and Native Americans said the room first filled with awkward silence, then vitriol.
"I said to them, 'You sound like an alcoholic, someone who's in denial and who doesn't want to believe what they're doing is not right,' " recalled Blackhorse, who said the interaction with fans left her feeling "dehumanized." "They don't see anything wrong with it. ­That's what the owner [Dan Snyder] is feeding their fans."
You go, Amanda. Note she says the interaction left her feeling hurt and dehumanized–why didn't the article focus on the pain of the Native panel? Between the interactions during the "confrontation" and the tailgate abuse, that's a story right there. But nope. We need to focus on the poor fans. Ready for that?
O'Dell said she felt trapped. "I was told that I was 'psychologically damaging Native American children,' and every time we tried to say something, we got cut off," she said.

She said she took off her microphone while they were still filming. As she packed up her belongings, Shroff, one of the producers, approached her.

"I said to him: 'This is not how adults behave. This is not anything I signed up for.' Tears were running down my face. I was shaking," O'Dell said. "I told him to tear up my contract. He said, 'I don't know if I can do that.' "
She was trapped, "this is not how adults behave"…tears, shaking. This actually describes exactly how I felt after a panel I did in AZ where I had to defend my work to a white audience, including several white males who got in my face after the panel, one pointing his finger in my face, telling me I was wrong, denying my doctorate had any value, saying mascots were "not an issue." The difference? This is my identity we are talking about. The very core of my being. My people, my ancestors, my heart, my work. This is the pain I, and other activists, go through daily in this fight. Ms. O'Dell? She was crying and shaking because folks wouldn't let her defend a mascot of a sports team. This is not the same thing, at all.
All four fans said they still would have gone on the show if the producers had told them in advance that there would be a debate. But they felt misled and exploited because they weren't told. Hawkins said he wouldn't have worn his Redskins jacket — at the producers' insistence — if he had been expecting to square off with Native Americans, especially one of the leading activists against the team name.
Again, "misled" and "exploited"–you want to talk about exploitation? Ask a Native. The line about the jacket kills me. So he's admitting, right then and there, that he knows the image and name are disrespectful to Native peoples. Why are we still even having this conversation?
"Going up against Amanda Blackhorse? It's like playing football and they're going to have RGIII," Hawkins said, referring to injured Redskins quarterback Robert Griffin III. "I am just an average fan. These are activists who have media training and talking points."
I love the comparison of Amanda to RGIII. haha. Au contraire mon dudebro, while some of the group have had experience being on TV before, none of them have had "media training" (maybe Amanda with the lawsuit?). We just learn by constant experience. But this is clearly trying to set up a power imbalance, the "trained" activists against the poor, "average" fans.
Skip a paragraph about O'dell trying to email the producers to edit her out.
Two days later, O'Dell said she called D.C. police and tried to submit a police report, but authorities told her no crime had been committed.
LOL at "no crime had been committed." This act, to me, says the most of the privilege and power involved in this than any other part of the story. If we've learned anything in the murder of Mike Brown, or any of the other young, unarmed, men of color shot by police forces in the last few years, and continuing issues with stop and frisk and police brutality, it is that police in the US exist to protect and serve whiteness. People of color would never, in a million years, believe that calling the police after being confronted and harassed in this manner would make any difference. Because this type of harassment is something that happens every. single. day for people of color, often by the police themselves. I say this in the most non-snarky way possible: only a white person would think that police intervention could help in this situation.
The final paragraph:
The Native Americans, meanwhile, celebrated the experience on social media. "We had a blast shooting with thedailyshow Jason Jones is a master of his craft," tweeted Ryan RedCorn , a 1491 member, linking to an Instagram photo showing him and his colleagues posing with Jones at Fed­Ex Field.
So the final image we're left with is Natives "celebrating" their victory, while the white lady cries. An image perpetuated in tons of westerns and other images of the "savage" Indian. Okay.
It's so fascinating to me how this was all framed. This fight against the Redsk*ns mascot is not about Native people. It's about power. It's clear that these fans know that the name is not honoring to Native people (case in point: the jacket comment), and according to my insider sources on the Native panel, after the "confrontation," the fans conceded points and actually came to some levels of understanding–only to recant the next day on social media and play the victim. In this situation the fans felt powerless and struggled to have their voice be heard. Welcome to the club.
As I always say, you ask me why representations matter. They matter because in 2014 a panel of Native lawyers, artists, journalists, and activists, with several advanced degrees and decades of experience working with and in our communities, are still framed as aggressors, violent, confrontational, angry, and yes, implicitly savage. You can't tell me that it's not all connected. Our identities are erased and replaced with the stereotypes you see every weekend on uniforms at FedEX field.
But one final note: We have every right to be angry. We have every right to be aggressive. Society often wants us to confront racism the "right" way, which is the way that makes white folks feel the least uncomfortable. But we need to be loud, we need to make our voices heard. These are our identities and futures on the line. Respectability politics be damned.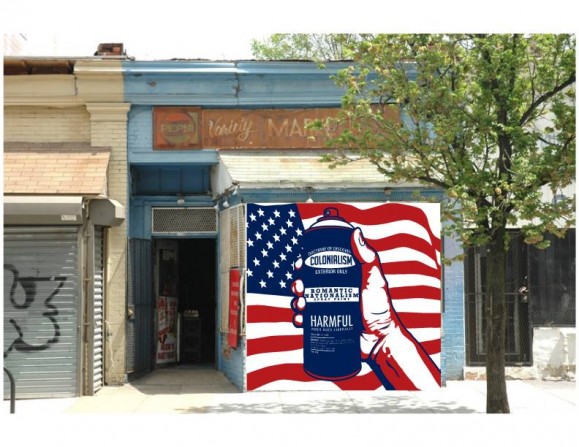 There is a secondary purpose to this post, and that is to support Gregg Deal, one of the panelists (ok, spoiler alert, he's my insider source). Gregg is a friend, an artist and activist fighting tirelessly to change the ways Native peoples are represented.
He's doing a new performance piece (accompanied by murals and other art), in which he will endure 8 hours of abuse to demonstrate the pain Native peoples go through around these issues of representation, including mascots:
In his performance piece during Art All Night, Gregg Deal will subject himself to abuse mirroring the various types of injury routinely endured by Indigenous people. Executing this piece within the Nation's capitol is especially provocative as it is part of an ongoing conversation about the problematic and racially charged name and imagery associated with the Washington Football Team, The Redskins. While Deal's performance stands as an illustration of the racism directed towards Indigenous people (including Deal), it is part of a greater statement about the incredible amount of inequality, bigotry, and misunderstanding experienced by Indigenous people, often expressed through both covert and overt hostility. As an indigenous person, Deal will exhaustively endure abuse, a taxing effort mentally, physically and spiritually.
I find it especially timely and important given the Daily Show coverage. So how can you help? He needs funds to support the project, and has an indie gogo campaign that ends TOMORROW (9/23). Please support if you can! He still needs a couple thousand dollars to cover his costs for the event:
Washington Post:  The Daily Show springs tense showdown with Native Americans on Redskins fans"