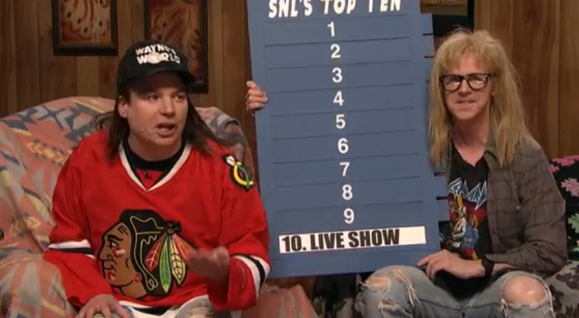 This week, Saturday Night Live turned 40. The show had an epic 3.5 hour long special episode, with cameos and performances from tons of folks involved during the show's history. I watched it last night as I was grading papers (meaning I half-watched it), and didn't expect there to be any Native representations, because there never are (except Fred Armisen's horribly awkward/stereotypical "Native American Comic Billy Smith" on Weekend Update)*. There were even several jokes about the lack of diversity at SNL–but solely along the lines of Black/White. Never any mention of Natives, of course.
I was excited to see a Wayne's World sketch, because I am a nerd and use #partytimeexcellent as a personal catchphrase…and then noticed something about Wayne/Mike Myers: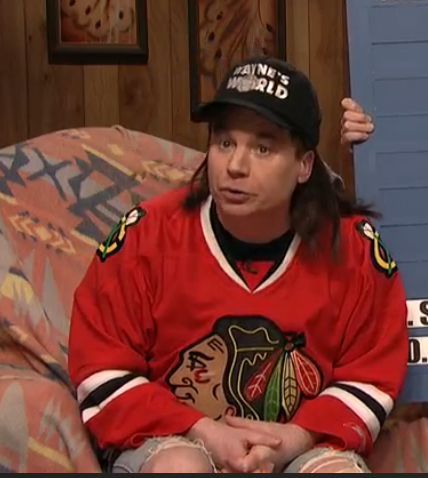 Obviously, he's wearing a Chicago Blackhawks Jersey. But notice the blanket he's sitting on as well…totally "Native inspired."
It got me thinking (duh). This screenshot pretty much encapsulates what most folks watching SNL think about Native peoples: mascots and artifacts. Both disembodied symbols that have minimal relation to contemporary Native communities or people. Both representing outsiders profiting from and exploiting our images and our cultures for their own economic gain. Both harkening to a very specific period of time in our cultures–back to the 19th century, when the "real Indians" were around. (Not discounting the contemporary Navajo weavers who continue this tradition today, obvs!)
I was guest lecturing for a course on Natives in Film on Friday, and used this info from Stephanie Fryberg's presentation at the Stanford Native Law Conference I presented at last week to demonstrate just how few Native representations in TV/Film there are today. These numbers are from 1997-2000–honestly, I think the numbers would be lower in 2015, and I don't think we have any more recent data [Researchers! We need you!]. Seeing these numbers is striking. We can say we have "no" representations, but to see the quantifiable numbers moves it into another realm.
In a content analysis of national newspapers in 1997 and major films from 1990-2000, relatively few (.2%) representations of American Indians (AI) were found (Fryberg, 2003)

Representations were largely stereotypic and/or negative
AI were seldom presented as contemporary people or in contemporary domains (e.g., as students, teachers, doctors)

In a composite week of primetime TV in 1997, no AI characters were identified (Mastro & Greenberg, 2000).
In a two week composite of primetime TV in 2002, 6 out of 1488 (.4%) TV characters were identified as AI (Mastro & Behm-Morawitz, 2005).
In a composite week of TV commercials in 2000, .4% of speaking characters were identified as AI (Mastro & Stern, 2003).
(I'll put the citations at the end of the post)
So back to the tableau of Myers in a Blackhawks Jersey sitting on an "Indian" Blanket. These things matter. More than 23 million viewers saw this sketch. 23 MILLION. When we don't have any counter-representations to show us as we actually are, the weight of these small moments adds up. I know most viewers wouldn't have even thought twice about the problematic nature of this–but that's why you have me, right? To scream from the rooftops that WE ARE MORE THAN ARTIFACTS AND MASCOTS? These things aren't "honoring." They're demeaning and exploitative. Final answer.
However, I also want share this bit of interesting SNL Native trivia, did you know the percussionist for the house band at SNL is Native?? Her name is Valerie Dee Naranjo, she's Ute, and she's awesome. I always look for her peeking out behind the column on the opening monologue, and you can see her in the background during Paul Simon's performance on this episode. So there is at least ONE positive representation on SNL every week, which is great.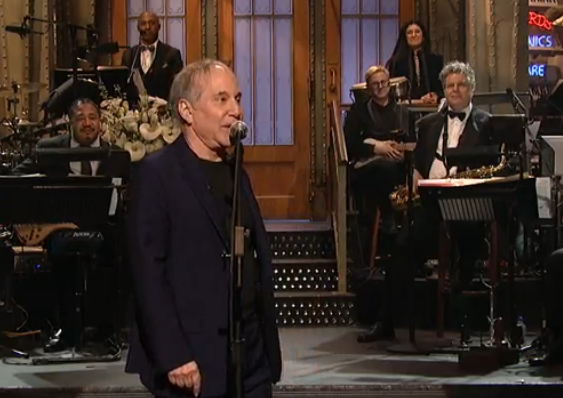 For the uninitiated: History of the Blackhawks logo (it's not "honoring," so shh.):
"The Chicago Blackhawks team logo was created by Irene Castle, wife of team founder and coffee tycoon Major Frederic McLaughlin, in 1926 at the team's inception into the NHL. McLaughlin chose the 'Blackhawks' nickname in recognition of his time as commander with the 333rd Machine Gun Battalion of the 86th Infantry Division during World War I. His Division was nicknamed "Blackhawk Division" after a Native American of the Sauk nation, Chief Black Hawk, who was a prominent figure in the history of Illinois. Throughout the franchise's history, the logo has undergone minor changes but still closely resembles its original presentation." (source)
Note: Designed by a white lady, based on her imagination–this is what Chief Blackhawk looked like, and not actually directly named to "honor" Native peoples.
If you still think it might not be offensive, check out what happens when the opposing team gets ahold of it: Thanks for the Severed Head, or how folks dress up to "honor" their team.
Citations:
Fryberg, S. A. (2003). Really? You don't look like an American Indian: Social representations and social group identities. Dissertation Abstracts International, 64(1549), 3B.
Mastro, D. E., & Greenberg, B. S. (2000). The portrayal of racial minorities on prime time television. Journal of Broadcasting & Electronic Media, 44(4), 690-703.
Mastro, D. E., & Behm-Morawitz, E. (2005). Latino representation on primetime television. Journalism & Mass Communication Quarterly, 82(1), 110-130.
Mastro, D. E., & Stern, S. R. (2003). Representations of race in television commercials: A content analysis of prime-time advertising. Journal of Broadcasting & Electronic Media, 47(4), 638-647.