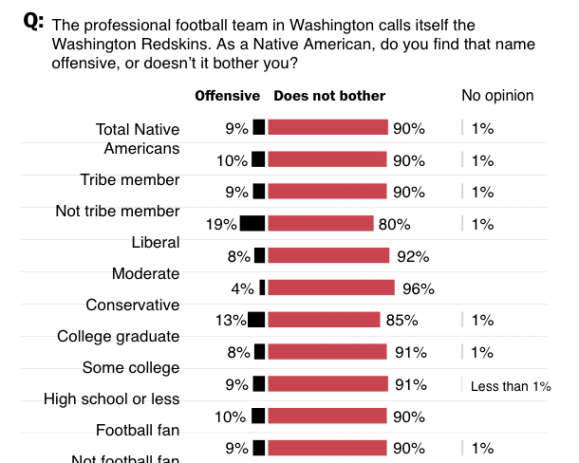 This morning I woke up to phone notifications. Blinking awake, I clicked over to twitter on my phone, and was greeted with the news: "New poll finds 9 in 10 Native Americans aren't offended by Redskins name." I sat up, let the phone fall in my lap, and said some choice words that I won't print here.
The Washington Post has apparently devoted a lot of time and resources to conducting a "nationally representative" poll of "Native Americans" to find out whether or not they find the Redsk*ns name offensive. In their survey of 504 "Native Americans," they found that 90% did not find the name offensive. They published a follow up  that gives the details on the survey and answers some FAQ.
Before I dive in, a note: This is not something I should have to do. For the last 7 years I've been writing this blog we've made huge gains in the way the public thinks about Native peoples and Native mascots. It's been the hard, hard work of a huge community of activists and community members for decades, and I just don't understand why WaPo felt the need to do this poll. More on this in a minute, but we've got psychological studies, tribal council votes, thousands of Native voices, and common decency and respect on our side, yet that was not enough. The Washington Post needed their OWN survey. The perspectives of Native peoples, who this effects directly, apparently aren't enough.
So the poll. WaPo has generously provided (that's not sarcasm) the actual questions, the breakdown by demographics for each, so feel free to explore. Look here.
This is where I want to focus my attention: 56 percent of this "nationally representative sample of Native Americans" was non-Native. I need you to understand this. 56% of the sample has no tribal affiliation.
Caveats, mostly for the Natives reading this: Yes, there are many pre-ICWA adoptees who don't know their tribal affiliations. Many of those adoptees have been able to find their families and enroll in their tribes as well. Yes, there are an estimated 11,000 Natives who have been disenrolled from their tribal nations, and presumably would not have a tribal affiliation. Though, the Native peoples I've met in that situation have often made that clear  to me "I'm XX tribe, but my family was disenrolled" (also this isn't meant to dismiss the severity of the disenrollment issue. But that's another post). Finally, with tribal enrollment policies varying, there are plenty of people who are unable to enroll in their tribes. But those folks often will still list a tribal affiliation when asked, or say they are a "descendant of XX nation." Do these three groups make up 56% of Indian Country? Heck no. This is a small minority.
The bottom line for me is this: In my entire life, I have never met a person, who primarily identifies as a Native American, who didn't have a tribe. Yes, that is a potentially dangerous blanket statement, but it gets at a fundamental misunderstanding of Native identity. Native identity is not just a racial category. It is a category of citizenship. I try very hard to use the language of citizenship–"I am a citizen of the Cherokee Nation"–and not "membership." Membership, to me, is for a club or an organization, not a sovereign nation. This would be like conducting a poll that tried to get at the opinions of "American citizens" and reporting that only 44% of those polled had American citizenship.
The other piece here is that WaPo is comparing the demographics of their group to national census data on Native peoples. Census data for Native peoples is notoriously unreliable and inaccurate in many ways. The myth of the "Native ancestor" or "Cherokee great-grandma" is real in the United States. Some people may have Native ancestry, but you are not all Cherokee. I'm sorry.
WaPo's sample included mostly Cherokee and Navajo. Those are two of the largest tribes in the US, but (I can say this as a Cherokee Nation citizen) I'd venture to guess most of those "Cherokees" are going off a blood myth rather than actual tribal enrollment. On the 2010 census 819,105 people identified as "Cherokee" alone or in part. Yes, over 800,000 people in the US claim they are Cherokee. To put this in perspective, the next largest was Navajo, at 332,129, and "all other American Indian tribes" at 429,629. There are 567 federally recognized tribes. How could a sample truly be representative of that diversity?
They tried to weight the sample toward reservation Natives, even though those census records they held onto so carefully indicate that 78% of Native people lived off reservation lands in 2010. As an aside, I also hate the constant dichotomy of reservation Natives (therefore the "real" ones) and off-rez Natives on the mascot issue. The reason some folks on the rez might not care in the same way (which is also a problematic stereotype, because many of the lead activists in this live on or near reservations) is because they aren't faced with the results of these mascots a daily basis. Things like these "honoring" moments. We in the city have to walk down the street and encounter this racism everyday, and we're separated from the counter-narratives and counter-representations that would surround us if we lived in our communities. Many of us don't have easy access to our ceremonies, our aunties, our grandmas, our land–the things that show us we aren't the harmful stereotypes we see at the sports arena. Folks on the reservation do have those counter-examples, surrounding them at all times. Additionally, if you only interact with other Native people everyday, no one is going to call you a redsk*n as a slur. This is not to disparage or discount those who truly don't find the name offensive. Just to provide context.
Now that we've gotten that out of the way, I don't actually want to spend more time breaking down the poll. Because it's not the poll or the results that matter. It's the effects this will have, and already has, on those in the fight for representational justice, and the big question of why. Who does this serve, honestly?
As of 3:15pm, there are already over 100 articles written about the poll. All with headlines like "9 out of 10 Native Americans not offended by Redsk*ns," "Majority of Native Americans don't care about Redsk*ns":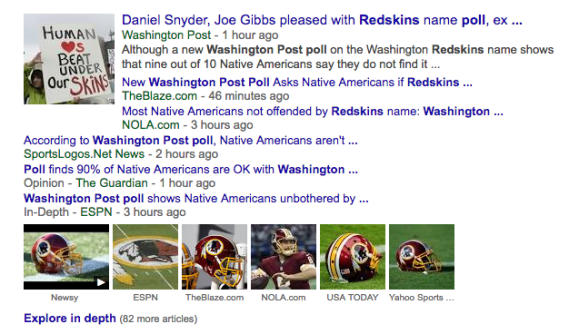 As someone who has devoted so much of her life to these issues, this makes me want to cry. I know how hard I've had to fight to debunk the original poll, and how hard I will now have to fight to complicate and push back on this one. Again, I ask why this was necessary.
This is just an investment in white supremacy, plain and simple. It is an attempt to justify racism, justify the continued marginalization of Native peoples, justify divide-and-conquer techniques that are pitting Native people against one another. It devalues Native voices, stories, and experiences.
These mascots do not honor us. They are disparaging, stereotypical, and harmful to the psychological well being of our youth. They honor a mythic past that erases our current existence.  We've been fighting this since the 1970's. This is not a new fight. We just want respect as human beings, not consensus as to whether or not a mascot is "offensive." Today's Native peoples are the survivors, the resistors, and are vibrant, diverse, contemporary human beings who deserve to be treated as such.
This is also the mascot of the football team in Washington DC, our nation's capitol. In thinking through the implications of this, I often think about meetings between political officials and a leaders of Native communities. The Native leaders are entering the meeting expecting to be treated as the leader of a sovereign nation with a government-to-government relationship with the US, but the President/Senator is instead picturing a wild-eyed savage war whooping through the plains, or not picturing that they or their Native nation continue to exist at all.
Our leaders and lawmakers in the US government are socialized in the same America that we all are–the one that teaches little to no actual Native history in schools, that erases the existence of contemporary Native peoples, that still thinks its ok to dress up like an "Indian" for whatever occasion, that still has Native peoples as mascots in the capital of the United States. 
Think about that. Each day, when these lawmakers come out of their offices, they are greeted with the image of a disembodied, stereotypical Indian head, accompanied by a racial slur, to represent the Indigenous nations they are supposed to be partnering with. I don't know if you've been to DC, but this image is everywhere. Honestly, how the heck are we supposed to get anywhere with the federal government if we're still being painted as "Redsk*ns" right outside their office doors?
But I'll leave you with this again. Who does this poll serve, WaPo? You have all the resources and facts you could possibly imagine that paint the alternative story. At this point you are willfully ignoring Native voices. Who does this serve? Dan Snyder, white supremacy, racism. Not Native people, that's for sure. I said on twitter, and I'll reiterate here, for the amount of money that went into this, you could have hired a Native reporter. Let us be in the room. Let us have a voice, let us help shape the questions. Let us have stories on contemporary Native communities and issues. We are more than mascots.
If you want the counterstory to the WaPo poll, I have an (ongoing) petition of Native people who are against the Redsk*ns name. You can find it here. At time of publication, we're at 5,892 names. Yes, not a nationally representative sample, not a "scientific" poll, but nearly 6000 names of proud Native peoples. All of these folks have tribal affiliations, and scrolling through the list, the tribal diversity is beautiful, specific, and amazing. Feel free to sign if you agree.
Previous posts (pulled language from some of these posts for this one, since there's only so many ways to say "please respect us and represent us respectfully"):
"10 examples of mascots "honoring" Native Peoples"
"Missing the Point on the Red Mesa Redsk*ns"
"When you're invisible, every representation matters: Political edition"
National Congress of American Indians Report on mascots (2013): Ending the legacy of racism